May 20, 2020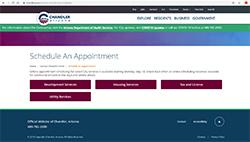 A new service is being offered by the City of Chandler. Several departments that provide a wide range of services to Chandler residents will be offering advanced scheduling for one-on-one appointments. Some of the popular services include: 
Development Services - Appointment with a Planner, building reviews, plan review and permits for small projects;
Housing Division – Appointments with a Housing Specialist;
Utility Services and Tax & License - Make a payment, account consultation, usage inquiry, assistance with starting a business, registering or renewing a City Specialty License, apply for a liquor license, sales tax filing assistance, Department of Revenue questions, tax audit appointment and more.
In the future, the Chandler Police Department will offer the ability to schedule fingerprinting services and Courts will implement appointments for court dates and customer service assistance. Once the City Clerk's Office receives direction from the U.S. Department of State to start processing passports, the service also will be available by appointment only.
There are many benefits to this new way of providing service: no long lines or wait times, pre-set appointment times with adequate time allotted for the specific need of the customer and more efficient appointments with pre-determined documentation needs.
"The trigger for this new application was looking for new and innovative ways to provide enhanced in-person service to our customers," explained City Manager Marsha Reed. "All of our customer service counters were closed due to the onset of COVID-19. In bringing services back, we needed a system that would ensure the safety of our customers and employees. This solution meets that objective and ensures our residents and businesses receive a timely, personalized service experience."
To schedule an appointment, go to chandleraz.gov/schedule. Follow the simple steps to select the service needed and the date and time that works best. Once scheduled, the customer will receive text messages with specific instructions about when to arrive, where to wait and what they'll need to bring with them to their appointment.
Media Contact
Jennifer Honea
Public Information Officer
City of Chandler
480-782-2228