May 2, 2022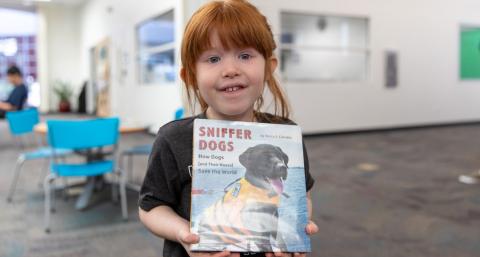 CHANDLER, Ariz. – Chandler Public Library (CPL) invites readers of all ages to dive into "Oceans of Possibilities" this summer with the return of their annual Summer Reading Challenge. Designed to interrupt the summer slide, the common term given to learning loss experienced by children while transitioning between school years, the program invites young participants to read daily and earn fun prizes for their efforts from June 1 through August 1.
"Reading allows your mind to wander, teaches you new ideas, lets you travel without leaving your house, and broadens your worldview; and this year's theme embodies that notion," explains Jean Reynolds CPL Program Coordinator. "Simply reading 20 minutes a day helps build a lifelong habit of reading and coincidentally, that's all it takes to participate in our Summer Reading Challenge."
Starting June 1, pre-readers to retirees are encouraged to read 20 minutes a day. Readers must log their minutes to earn points towards exciting prizes such as free food gift certificates to popular restaurants like Raising Cane's, Rubio's Coastal Grill, and hometown favorite Lou Malnati's Pizzeria. With each minute milestone reached, participants unlock new prize tiers. Readers who complete the challenge by achieving 1,000 points by the end of summer receive a free book and are entered into a drawing for various grand prizes in their age group. The complete prize list is available online.
Throughout the summer, CPL branches will host special themed activities and events with secret codes to help readers achieve their points. Additionally, CPL's many personalized services make it easy for readers to find their next read and qualify for more points. Participants are encouraged to take advantage of the Library's Bag of Books program, enlisting the help of the Library staff to create take-home bags of books recommended for your age group and interests. Young readers receive 20 books teens and adults receive 10 books. Once bags are filled, they are available for pick-up at your desired branch.
Patrons can get a head start when they create their Summer Reading Challenge Account online before the challenge opens. Once the challenge begins, readers may sign up in person at any Chandler Public Library branch.
Summer Reading Challenge is hosted in partnership with Maricopa County Reads.
For more information, call the Chandler Public Library at 480-782-2800.
Media Contact:
Tiffanie Hawkins
Marketing & Communications Coordinator
480-782-2910
Program Coordinator:
Jean Reynolds
480-782-2751