Jan. 15, 2021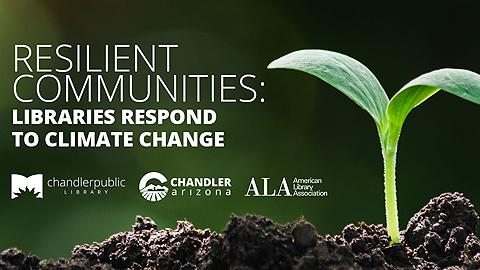 The Chandler Public Library has been selected as one of 25 U.S. libraries to participate in Resilient Communities: Libraries Respond to Climate Change, an initiative of the American Library Association (ALA) that will help libraries engage their communities in programs and conversations on the climate crisis.
"We are so proud to be selected from a pool of more than 70 applicants to bring Resilient Communities to Chandler Sunset Library," said Library Manager, Rachelle Kuzyk. "Working in a desert community, we understand the significance of addressing critical issues like climate change, climate resilience and sustainability. We are looking forward to partnering with other local organizations that share the same goal of providing quality, fact-based programs on these topics to the community."
The grant award will enable a seed library to be developed and housed at the Chandler Sunset Library. Seeds will be donated by Native Seed Search, a nonprofit seed conservation organization based in Tucson, and Seed Savers Exchange, a network of gardeners interested in sharing seeds and preserving heirloom varieties. Launching this spring, the seed library will also include additional materials related to seed saving and gardening, and a special presentation about seed saving at a date to be determined.
Programming related to the grant will kick off with the distribution of Adult Grab & Go: Sunset Seed Swap kits that will include gardening information and seeds donated from a variety of organizations in the Valley. Library staff will create the Grab & Go bags for patrons to pick up on Wednesday, Jan. 27, between 6-7 p.m., on a first come, first served basis and supplies will be limited.
This February, the Library will collaborate with Arizona State University's Rob and Melani Walton Sustainability Solutions Service to develop and implement programs that encourage positive individual action and engage others in the community to build a brighter future. Sustainability solutions emerge when we work together, bringing our diverse thoughts and backgrounds to the tables.
Virtual sessions will be available online and present a fantastic opportunity for K-12 teachers to engage in thoughtful discussions on sustainability and how learning opportunities can be incorporated into the classroom. Together we can build a future in which the people and planet can thrive. More information is available on the Chandler Public Library's website – chandlerlibrary.org.
Additional programming related to the climate and sustainability includes:
A film discussion of the documentary, "Decoding the Weather Machine." The film may be viewed beforehand, by borrowing the DVD through the library, streaming on the library's Kanopy service or through PBS. An online discussion is scheduled for Wednesday, March 17 at 6 p.m. Registration information is available on the Library's website.

Lalitha Krishnan with the Chandler Environmental Education Center will give a two part online presentation on Climate Change & Biodiversity at 11 a.m. on consecutive Saturdays, March, 20 and 27. It will be open to all ages and be both presentation and discussion based. She will be covering a lot of different topics, such as basics of both natural and human caused climate change, biodiversity, zero emission goals, the Paris Agreement and more.

Also, the Chandler Sunset Library has been named a Climate Resilience Hub, the only one in Arizona. Resilient Communities provide accurate information about the climate change crisis to the public through libraries. The hubs, listed on climatecrew.org/resilience_hubs, also provide assistance to the community before, during and after extreme weather events, including educational events and information, or material items and services, like phone charging during a power outage.
The Chandler Library Resilient Communities pilot project has been funded by a generous grant from Andrew and Carol Phelps, the parents of a public librarian and a library master's student. For more information about this grant and programming, go to chandlerlibrary.org or call 480-782-2800.
About Chandler Public Library




Serving residents of Chandler and the East Valley since 1954, Chandler Public Library has a commitment to being the reading, learning and cultural center of the community. As the information leaders, we provide a variety of resources, in a variety of formats, so library users of all ages can explore topics of personal interest and continue to learn throughout their lives. Chandler Public Library is part of the City of Chandler Cultural Affairs Division. Find us on Facebook, Twitter, Pinterest and Instagram.
About the American Library Association




The American Library Association (ALA) is the foremost national organization providing resources to inspire library and information professionals to transform their communities through essential programs and services. For more than 140 years, the ALA has been the trusted voice for academic, public, school, government, and special libraries, advocating for the profession and the library's role in enhancing learning and ensuring access to information for all. For more information, visit ala.org.