Dec. 15, 2020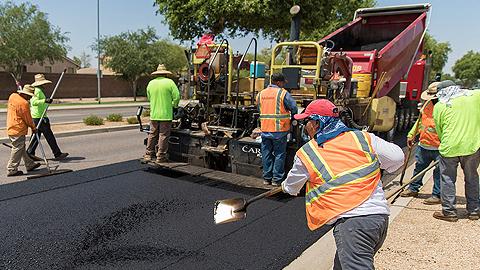 The Chandler Public Works & Utilities Department recently earned full accreditation from the American Public Works Association (APWA), an accomplishment that recognizes that the agency is in full compliance with the recommended management practices set forth in APWA's Public Works Management Practices Manual. This was actually a re-accreditation, the fifth consecutive successful evaluation process completed since 2004 by the City department, which is currently one of only four accredited agencies in the State of Arizona.
By voluntarily pursuing and obtaining accreditation every four years, the Public Works & Utilities Department is demonstrating its commitment to implementing best practices for the industry, operating at the highest management standards and providing Chandler customers with the services, performance and resources they can depend on every day.
Chandler Public Works & Utilities Director John Knudson says the long and detailed accreditation application process is a challenge for any organization, but the end result is that Chandler leaders, residents and businesses can be confident that they are being well served by a department that pursues continuous improvement and excellence in its operations.
"For more than a year, we had nearly two dozen employees meet weekly as part of a Re-Accreditation Task Group that reviewed our management processes and made updates or created new practices. This team was able to align and conform our efforts to 597 practices that are outlined by APWA," Knudson says. "They accomplished all of this while continuing to do their regular jobs and while working through the COVID-19 crisis. I'm extremely proud of their efforts, and the community can share that pride, as well."
The work of the Task Group culminated in June with a comprehensive review and evaluation of the Department's level of compliance with all applicable management practices by three APWA evaluators, each respected public works professionals from other communities. Chandler Public Works & Utilities Department received 100% full compliance from the evaluators and the APWA Accreditation Council.
Knudson also acknowledged the support of City Manager Marsha Reed, the assistant city managers and all the department directors for their support during this long effort. There were also two individuals who oversaw the process, Sr. Management Analyst Houston Andreades and Financial Services Supervisor Liz Denning, and kept the Task Group moving forward toward its goal. "The bar has now been set very high for when we start this process again in 2023," Knudson added.
In addition to Chandler, the accredited agencies in Arizona include Coconino County, Mohave County and Peoria.
About APWA
The American Public Works Association is a not-for-profit, international organization of more than 30,000 members involved in the field of public works. APWA serves its members by promoting professional excellence and public awareness through education, advocacy and the exchange of knowledge. APWA is headquartered in Kansas City, MO, has an office in Washington, DC, and 63 chapters in North America.
Media contact:
Craig Younger
City of Chandler, Public Information Officer
480-782-2701