Feb. 19, 2021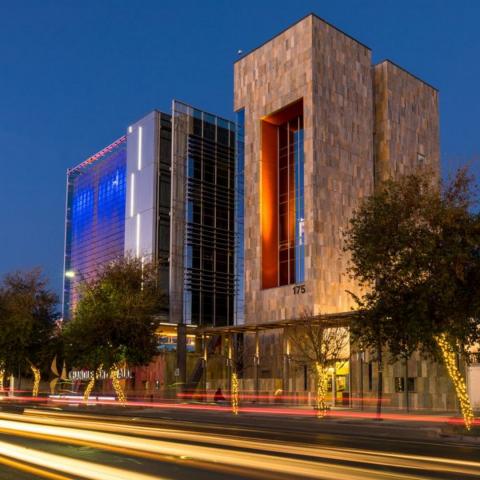 CHANDLER, Ariz. – This year's virtual State of the City hosted by Mayor Kevin Hartke and City Councilmembers focused on Chandler's perseverance and community strength. 
Mayor Hartke discussed innovative actions by the City, businesses and nonprofits to adapt, connect and serve residents during the pandemic. He also highlighted Chandler's significant accomplishments in 2020 and offered a preview of efforts underway in 2021. The virtual State of the City address and a copy of Mayor's remarks are available online at chandleraz.gov/StateOfTheCity.
During his address, Mayor Hartke announced that Honeywell has committed to a long-term facility lease of more than 150,000 square feet in West Chandler to produce N95 masks. Honeywell expects to hire hundreds of workers to support the manufacturing operations in the first year with the potential for growth in the coming three years. 
"Fortune 100 companies like Honeywell can chose anywhere in the world to locate their manufacturing facilities like this and we are proud that Honeywell chose Chandler," said Mayor Hartke.
The 2020 City of Chandler annual report released today details accomplishments for the City Council's strategic goals, accolades received and measures taken during COVID-19. The report is available at chandleraz.gov/2020annualreport.
In a year faced with unparalleled challenges caused by the COVID-19 global pandemic, Chandler tapped into the entrepreneurial spirit, innovation and hometown traditions that have shaped our community. 
Notable accomplishments featured in the 2020 annual report include:
·    Business retention, expansion and attraction is expected to create $437 million in capital investment and create more than 2,500 jobs in the next three years
·    Chandler issued 4,228 building permits at a combined value exceeding $1.1 billion, more than 70 percent higher than the value of permits issued in 2019
·    Completed the second phase of the Public Safety Training Center, creating a state-of-the-art shooting range and judgement training for officers
·    Put three new aerial ladder fire trucks into service plus the Public Safety Training Center hosted the first Chandler Fire Regional Academy and became an accredited paramedic training site
·    Treated and delivered 11.8 billion gallons of drinking water plus treated and delivered 11.2 billion gallons of wastewater to A+ standards for reclaimed uses
·    Developed master plans for transportation, technology, airport, facilities and parks
·    Concluded the Chandler Center for the Arts anniversary season, formed the Chandler Museum Foundation and unveiled public art murals in downtown
·    Launched a series of virtual classes, programs, events and performances to fill the community's need for culture, entertainment, reading and recreation
·    The #WaterYouDoing water safety campaign earned national recognition and nearly 9,000 residents were taught swimming and water safety skills
The report also highlights measures taken in response to COVID-19, including:
·    Allocated $9.5 million in grants that helped small businesses keep employees on the payroll and conducted marketing programs to support local businesses
·    Reduced business fees and regulations as well as introduced programs that helped businesses impacted by service disruptions and capacity limitations
·    Supported vaccination distribution, business education on executive order requirements and modified procedures for handling calls for emergency services
·    Distributed grants and collaborated with nonprofits and volunteers to serve residents in need of housing, financial support and essential services