May 18, 2020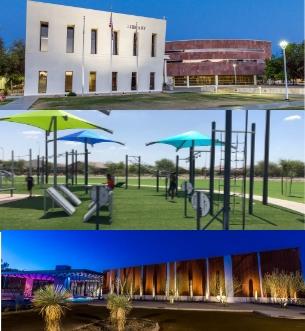 Chandler recreation centers, aquatic centers, Chandler Public Library, Chandler Museum and Vision Gallery are now open as part of the City's return to service plan announced last week by Chandler Mayor Kevin Hartke and members of the City Council.
"We've entered the next phase in our recovery from COVID-19 with the opening of businesses and City facilities," said Mayor Hartke. "Our park, recreation, library and cultural facilities are an important part of life in Chandler. Thank you for your patience as we continue to safely open programs and amenities in our community."
Facilities opening today include the Tumbleweed Recreation Center, Environmental Education Center, Snedigar Recreation Center and Community Center. Residents also can visit Desert Oasis, Mesquite Groves and Nozomi aquatic centers for lap swimming and Aqua Fit classes. Playgrounds, courts, athletic fields, pavilions and other amenities in City parks are available.
Chandler Public Library branches are opening today for patrons to pick up items placed on hold, return items and browse the collection. Access to computers and other library services will be limited. The Chandler Museum and Vision Gallery are open for guests to view exhibits and art on display.
Chandler residents, their guests and current passholders will be given priority to use recreational facilities and participate in available programs. Residents can register for summer programs and classes as well as reserve athletic fields, courts and pavilions in Chandler.
The experience of visiting these City facilities will be different due to health and safety measures that have been put in place, including facility alternations for social distancing, hours of operation and limited access to services, programs and amenities.
While Chandler residents and businesses are encouraged to continue using online, text, email and phone services provided by the City, some customer service counters will resume operations by appointment this week for building permits and plan reviews, public housing requests, utility bill payment and business tax and license services.
Some City facilities, services and events remain closed subject to evaluation as the City progresses in its return to service plan. The Chandler Senior Center is closed, but continues to provide residents with hot meal service via carryout or delivery. City events also are postponed through the end of May. Passport and fingerprinting services are unavailable at this time.
Visit COVID-19 Updates for details regarding the status of City facilities and services.
Media Contact
Matt Burdick
Communications Director
480-782-2232