March 1, 2021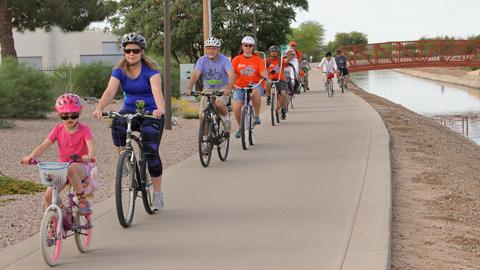 The 2021 Chandler Family Bike Ride returns April 10-18 with another invitation for the community to get out and get moving on City bike paths, trails and streets for fun and healthy exercise. As with the 2020 event, this year's expanded nine-day Family Bike Ride encourages participants to enjoy one or more bike rides and share their experience with the community through their personal social media accounts and the event page on Facebook.
"We may not be able to gather in large groups like we have in previous years, but we can still bond as an community on social media and share our Chandler spirit and pride with friends and neighbors," said Chandler Mayor Kevin Hartke. "You can ride solo or share a bike ride with others, and I encourage everyone to be safe by wearing a bike helmet, checking your tires and other equipment and following physical distancing guidelines with other riders."
Mayor Hartke added, "Don't forget to add to the fun by posting your photos and videos before, during and after your ride using the hashtag, #BikeChandler."
To be part of the shared community experience, participants are asked to register online at chandleraz.gov/familybikeride and commit to at least one bike ride at any convenient time from April 10-18. Registration opened March 1.
As an added bonus, those who register by March 31 will reserve a goodie-bag with an event t-shirt, water bottle and other items from event sponsors. Supplies are limited, so register early and choose one of the goodie-bag distribution locations and dates.
The Chandler Family Bike Ride is presented by the City's Transportation Policy Division, with support from various City departments. We thank this year's Chandler Family Bike Ride sponsors – Valley Metro, Phoenix Children's Hospital and Sprouts – who, for the second year, have supported the event through many challenges presented by the current public health crisis.
For more information on the Chandler Family Bike Ride, contact Nancy Jackson at 480-782-3442 or nancy.jackson@chandleraz.gov, or the website.