Dec. 3, 2019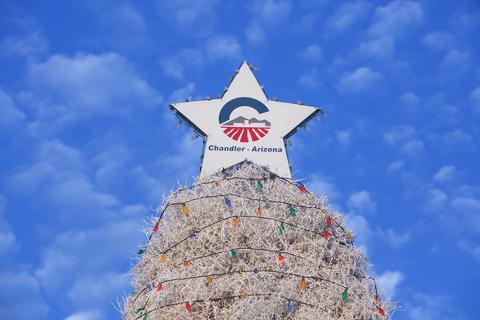 The holiday season is here again! Cue the pumpkin spice flavored everything, festive movies and cheerful decorations galore. But besides all of that, there's another magical tradition you can look forward to this Saturday night: the lighting of the Tumbleweed Tree and the Parade of Lights in Downtown Chandler.
Now in its 63rd year, the Tumbleweed Tree still stands as the City's seasonal centerpiece, reflecting the resourcefulness and uniqueness of its residents. This year, the tree will be lit for the season on Saturday, Dec. 7, and remain on display through Jan. 12, 2020.
The holiday spectacular begins with family fun and entertainment at 4:30 p.m. Saturday, followed by the Parade of Lights along Arizona Avenue at 6:45 p.m. and the actual tree lighting after the parade at approximately 8 p.m., with the event set to end at 9 p.m.
The City of Chandler presents the 63rd Annual Tumbleweed Tree Lighting & Parade of Lights in partnership with American Furniture Warehouse, APS, Chandler Lions Club, TLC Pediatrics, Waste Management and Waymo.
For more information on these activities, plus the complete entertainment schedule, visit Chandler Tumbleweed Tree. 
Where to park?
As the City prepares to kick off the holiday season, guests are encouraged to arrive early to avoid traffic and find parking. There are multiple locations with free parking, including four parking garages on the east side of Arizona Avenue, and two on the west side, including the newest and largest downtown garage on Oregon and Chicago streets.  
Guests are reminded that several streets in the downtown area will be closed to traffic from 2:30-10 p.m. Major closures scheduled include:
2:30-8:30 p.m. – Arizona Avenue closed between Frye and Pecos roads

2:30-10 p.m. – Arizona Avenue closed between Frye Road and Chandler Boulevard

6-9:30 p.m. – Arizona Avenue closed between Chandler Boulevard and Galveston Street 

6:30-9 p.m. – Chandler Boulevard restricted from Delaware Street to California Street
Several other smaller streets in the downtown area also will be closed or restricted during the festivities. For a map showing street closures and parking options, visit Chandler Tumbleweed Tree.
What to do at the event?
A carnival-like atmosphere welcomes holiday revelers of all ages throughout the evening, and it's totally free. Folks can stop by and write letters to Santa, pose with the acclaimed Tumbleweed Tree, make holiday crafts and take part in activities, such as pony rides, laser tag, and bounce houses. A star-studded line-up of energizing local talent provides plenty of live entertainment and the soundtrack for the night.
How to watch the parade?
Bringing holiday cheer in the form of festive floats, dancing elves, Santa (and his firetruck) and millions of twinkling lights, the Parade of Lights is a holiday staple in Downtown Chandler. A little advance preparation helps onlookers get the best views. Arrive early to grab a seat along the route and be sure to dress for cooler weather and bring your chairs and blankets.
The festive processional steps off at 6:45 p.m., starting at Frye Road and heading north down Arizona Avenue to Galveston Street, bringing more than 15,000 spectators between City Hall and Chandler High School.
If you can't make it out to the event, catch all of the action streaming live on the City's Facebook page. 
Five facts about the Tumbleweed Tree:
Starting in October, nearly 1,000 tumbleweeds are collected and 600-800 are used to adorn a wire frame connected to a metal center pole.

The tumbleweeds are shaped then sprayed with 35 gallons of fire retardant and then 45 gallons of white paint.

While the paint is wet, the crew will dust the tumbleweeds with up to 80 pounds of glitter.

The tree is wrapped in more than 1,200 LED holiday lights that give it a spectacular look, day or night.

After the Chandler star is placed on top, the Tumbleweed Tree will be 35 feet tall and 20 feet wide.

Known internationally, the iconic tree has been featured in National Geographic magazine, on several Travel Channel Shows and even Saturday Night Live.
For more information or questions about this event, please email or call 480-782-2669.

Media contacts:
Tiffanie Hawkins
Chandler Recreation
480-782-2910
Craig Younger
City of Chandler, Communications and Public Affairs
480-782-2701