Sept. 7, 2023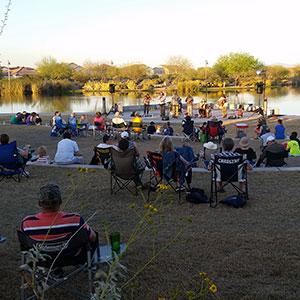 CHANDLER, Ariz. – Live music fills the air at Veterans Oasis Park for the annual Sonoran Sunset Series. On the third Thursday of the month, from October 19 through March 21, talented musicians and entertainers will perform jazz, country, original tunes and American classics from multiple decades. The series takes place at the main stage from 6 to 7:30 p.m.
The 2023 Sonoran Sunset Series lineup includes:
Oct. 19: Outside the Line
Nov. 16: Pick & Holler
Dec. 21: The Sugar Thieves
Jan. 18: Contessa Blue
Feb. 15: StarAlliance
March 21: Traveler 
"Chandler's Sonoran Sunset Series is a great reason to gather with family and friends and enjoy the outdoors," said Theo Anglin, Recreation Coordinator and event organizer. "Residents can come early to Veterans Oasis Park, walk along the lake or park trails and then settle in for a concert under the stars."
Attendees are encouraged to bring blankets and chairs. Seating is available on a first-come, first-served basis and registration is not required. Food and small coolers are also welcome; alcohol is not permitted. Veterans Oasis Park is located at 4050 E. Chandler Heights Road.
For more information about the performances, visit Chandler Special Events.
Media Contact:
Kate Smith
Marketing and Communications Analyst
480-782-2910