May 24, 2021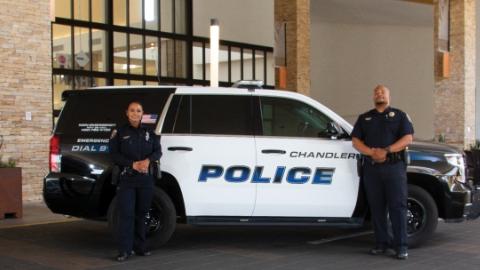 The City of Chandler has announced a hiring incentive to bolster its national recruitment of police officers, detention officers and dispatchers for the Chandler Police Department.
The hiring incentive will be $5,000 for lateral sworn police officers, $3,500 for police officer recruits and $2,000 for detention officers and dispatchers. Individuals would receive half of the incentive upon being hired and the remaining half upon successful completion of a probationary period.
The hiring incentive is a proactive measure to attract qualified candidates to fill vacancies due to upcoming retirements and adding new positions. It supplements current recruiting efforts for sworn and civilian positions in the police department.   
The City of Chandler proposed budget for next fiscal year would add 12 new police positions plus 15 overfill positions that allow individuals to be hired and trained while current officers continue serving the community. The Chandler City Council will consider adoption of the proposed budget during its regularly scheduled meetings on May 27 and June 10.
Chandler continues to be among the safest cities in the nation with traditional crime steadily declining to its lowest levels since the 1980s in large part due to a police department with an extremely high employee retention rate and outstanding community support.
For more information or to apply, visit Chandler Police.
Media contacts:  
Matt Burdick       
City of Chandler, Communications and Public Affairs Director
480-782-2232 

Detective Zach Waters  
Chandler Police Department, Public Information Officer
480-782-4105