May 2, 2023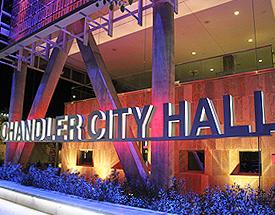 CHANDLER, Ariz. – The City of Chandler is preparing to rehabilitate or repair sewer pipe and six manholes near the intersection of Dobson Road and Chandler Boulevard, and in Dobson Road to just north of Galveston Street. The City is also preparing to install new waterline and service connections on Chandler Boulevard from Dobson Road to Chippewa Place on the north side of Chandler Boulevard and from Dobson Road to Meadows Drive on the south side of Chandler Boulevard.
Construction is currently scheduled to begin mid-May 2023 with an anticipated completion date of August 2024.
This area was studied by the City's Wastewater Sewer Assessment Program that evaluates, prioritizes and makes needed repairs to sewer pipes and manholes. The assessment program identified the need for improvements near Dobson Road and Chandler Boulevard, which has infrastructure ranging from 35 to 50 years in age. In addition, water mains prioritized for replacement in the 2018 Water Master Plan will also be replaced from west of Dobson on Chandler Boulevard east to Chippewa Place.
During construction, roads are expected to remain open for travel with lane or turn restrictions where needed. Traffic control is expected to remain in place 24/7 to protect the work zone.
Where possible, the rehabilitation will include the installation of a lining within the existing sewer pipe. This process will reduce construction impacts to nearby businesses and eliminate the need for excavation. In some segments, the replacement and relocation of sewer pipe and manholes, along with the abandonment of the old structures, will require trenching and installing the pipeline. Bypass pumps and piping will be operated and monitored 24/7 during the sewer rehabilitation and replacement.
Water main replacement will take place by trenching and installing pipeline. Should disruptions to business or residential water service be needed, those impacted will be notified in advance.
Access to residences and businesses will be maintained during construction. There may be a need for driveway restrictions to businesses; however, the contractor will ensure there are alternate driveways open for access during any restrictions.
For more details about this project, visit the Sewer & Water Improvements: Dobson Rd. and Chandler Blvd. Project or call the project hotline at 480-898-4060.
Media contact:
Toni Smith, Marketing and Communications Manager
480-782-2701