April 14, 2023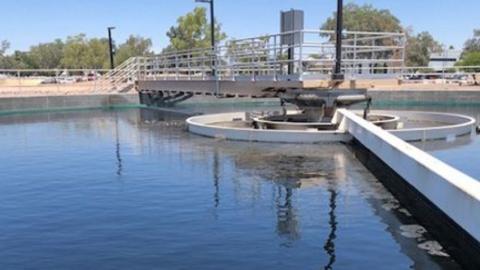 CHANDLER, Ariz. – During a work session last week, Chandler City Council received an update about the City's water resources and drought preparations. 

With Lake Mead at a historically low level, the City implemented Stage One of Chandler's Drought Plan in June 2022. The City began increased water conservation messaging to residents in fall 2022. This spring and summer, the City will continue those efforts with a digital marketing campaign to promote ways to reduce water use outdoors. 

City staff provided an update on the current conditions of the Colorado, Salt and Verde rivers. The presentation included an overview of Chandler's water resources, infrastructure investments, water rights acquisitions and a unique water allocation policy. City Council discussed preparations to reduce water use within municipal facilities and strategies to adapt to a future with less Colorado River water availability. Council also reviewed staff recommendations to enhance water conservation programs, update landscape ordinances, participate in regional partnerships and continue public awareness campaigns.

Chandler has been preparing for a future with less water for decades. Drought preparations include the following strategies. 
Diverse Water Supplies – Chandler has secured a diverse water supply to reduce reliance on any one particular water source. Chandler's surface water supplies include the Salt, Verde and Colorado Rivers.
Reclaimed Water - Investments have been made in reclaimed water infrastructure to treat and directly reuse 100% of Chandler's wastewater collected, reducing the need for new drinking water supplies. Chandler delivers reclaimed water to 377 direct use customers and has an agreement to supply reclaimed water to the Gila River Indian Community in exchange for additional Colorado River water. The City also owns and operates recharge facilities which allow the reclaimed water to be recharged into the aquifer for storage and later use.
Water Conservation Programs – Chandler's conservation programs include rebates for grass removal and smart irrigation controllers, water-wise site visits, conservation education programs and landscape ordinances to reduce outdoor water use.
Smart Investments in Groundwater Wells – Access to 35 drinking water wells uniquely positions Chandler to have 100% redundancy between surface water supplies and groundwater supplies. Decades of underground storage and robust well infrastructure allows Chandler to recover water stored underground during surface water shortages. Chandler has stored over 450,000 acre feet of water underground.
One Interconnected Water Distribution System – Chandler's ability to move water from multiple sources to anywhere within Chandler's water service area provides maximum flexibility to adapt to changing water resource availability.
Water Allocation Policy – In 2015, Chandler adopted a unique policy to connect land-use planning decisions with water resources. 
Stormwater Management – Chandler manages stormwater to maximize aquifer recharge within the City. Stormwater is directed to retention basins and drywells to increase recharge efficiency.

The City of Chandler will continue to monitor the drought situation in Arizona and the region and adapt as conditions change. For more information, visit Drought Preparedness. 
Media contact:
Toni Smith, Marketing and Communications Manager
480-782-2701