Nov. 24, 2020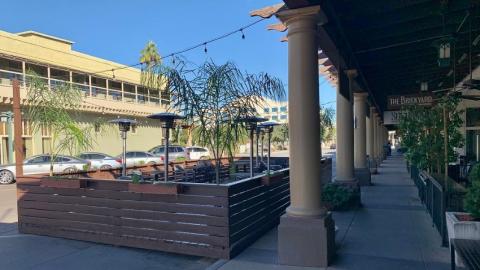 The City of Chandler has recently launched a new program that allows businesses to expand their premises into on-street parking. 'On the Street' was created to assist businesses who have been faced with indoor capacity restrictions due to the pandemic. The program also gives patrons the option to continue supporting their favorite local establishments safely outdoors. For now, the program will operate through May 31, 2021. 
"Local businesses are a vital part of our economy and this program is another way Chandler is helping businesses during COVID," said Chandler Mayor Kevin Hartke. "We all must continue doing our part to mask up and keep a healthy distance, and 'On the Street' allows businesses to offer an outdoor experience for our community that's not quite comfortable with indoor activities. I commend our staff for implementing this idea that's seen success in several parts of the country."
 
The Brickyard, located in Downtown Chandler's Historic Square, is the first business approved to offer on-street dining.  "The past few months have been challenging for the entire industry," said Gavin Jacobs, co-owner of the Brickyard. "'On the Street' allows my business to safely expand its dining options while meeting our customers at their comfort level. As soon as we heard about this program, we jumped on the opportunity." 
While several restaurants have expressed interest so far, 'On the Street' is not limited to only restaurants, or businesses within the Downtown. To see if your business qualifies for the program, visit On the Street.
Applications for 'On the Street' are currently being accepted. For more information or to initiate the application progress, interested businesses may contact Downtown Redevelopment Specialist John Carter Owens at 480-782-3047. 
 
Media contact:          
Stephanie Romero
City of Chandler, Public Information Officer
480-782-2231