Jan. 13, 2022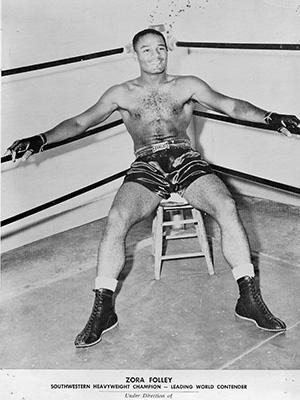 CHANDLER, Ariz. – In March of 2020, Chandler Museum opened their signature exhibition Bigger than Boxing: Zora Folley and the 1967 Heavyweight Title. The exhibition explores the history of boxing and race; examines the life and career of both Zora Folley and Muhammad Ali; and places the fight within the context of its time with sections covering the Civil Rights Movement, the Vietnam War, and Chandler in the 1960s. At the heart of the exhibition is a hometown hero Folley who lives on in the hearts of many living in Chandler today.

Bigger than Boxing will close on Sunday, Feb. 13. Join Chandler Museum to say farewell to this exhibition with a series of programs and events leading up to the closing.
Food Truck Friday: Night at the Museum, Friday, Jan. 28, 6-9 p.m., drop in
Chandler Museum will stay open late to celebrate the Bigger than Boxing exhibition about our local legend Zora Folley. This family-friendly event is an opportunity to enjoy great food from local Black-owned food trucks, music, and double-dutch jump rope performances by The Phoenix Sub Club/40+ Double Dutch Club. Food trucks include Kingpin BBQ, Mr. Wonderful's Chicken & Waffles, My Louisiana, and Maui Wowi.
Chandler Museum is partnering with BASE and Chandler4Change to host this community event. It will start the series of exhibition closing celebrations and kick-off Black History Month.
Our Stories, Saturday, Jan. 29, 10:30 a.m. to noon
The public is invited to "Our Stories: A Conversation with the Folley Family" where four of Folley's children will share stories of the Zora Folley they loved and admired: not the celebrity or the boxer, but the man and father.
In the Exhibits, Sunday, Jan. 30, 1-4 p.m., drop-in
For a more active experience, the "In the Exhibits: Pound for Pound" program will feature physical challenges throughout the exhibit hall and courtyard spaces welcoming visitors to step into the shoes of Zora Folley and practice moves, try on some gear, and learn what it takes to become a local hero. 
History Bites, Tuesday, Feb. 1, 12-12:30 p.m.
During the exhibition's final weeks, Chandler Museum's History Bites program will focus on "Phoenix Madison Square Garden: Equality in the Ring" with guest speaker historian Vincent Murray. Imagine yourself ringside as Murray traces the 50-year arc of this legendary locale.
Fight Like Folley, Thursday, Feb. 10, 5:30-6:30 p.m.
Are you ready to rumble? Swing by Chandler Museum to find your inner fighter. In this 1-hour class, you'll get a mini tour of Bigger than Boxing: Zora Folley and the 1967 Heavyweight Title, and a heart-thumping cardio boxing class led by Title Boxing Club Ahwatukee.
Entrance to all programs and events is free. Registration for all programs is encouraged. Throughout the Closing Celebrations, stop by Chandler Museum Store for discounted Bigger than Boxing merchandise.
Chandler Museum has social distancing reminders throughout the building and limits the number of visitors in the exhibit spaces.
Bigger than Boxing: Zora Folley and the 1967 Heavyweight Title will be on display through Sunday, Feb. 13, 2022, 300 S. Chandler Village Drive, Tuesday- Saturday 10 a.m. to 5 p.m.; Sunday 1-5 p.m.; Closed Monday. Free admission.
Find more information online at Chandler Museum, or by calling 480-782-2717.
Chandler Museum is an innovative learning environment where the community comes together to share its stories, preserve its cultural heritage, and experience Chandler as a people and place. The vision of the Museum is to be the community's principal resource to explore its people's history, culture, and place in a rapidly changing world of today – within and without the walls of a building. More information online at Chandler Museum.

Media contact: 
Tiffani Egnor
Chandler Museum Programs & Operations Manager
480-782-2874