March 20, 2020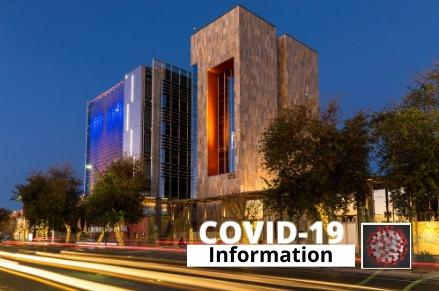 Chandler Mayor Kevin Hartke and the City Council authorized changes to some public services and the closure of several City facilities, due to risks associated with the global COVID-19 outbreak.
City officials are monitoring the ongoing COVID-19 situation and will continue to evaluate the hours of operations and the availability of in-person customer service at these facilities. Schedules may change as circumstances change in the community. Please return to the Chandler COVID-19 Updates webpage regularly for the latest information. Many City services also are available via City websites and residents are encouraged to take advantage of online services as much as possible.
 
FACILITIES
Chandler Center for the Arts – Closed through April 30. Box Office hours modified to Monday through Friday 10 a.m. to 5 p.m., closed Saturday.

Chandler Museum – Closed through March 31. 

Chandler Public Libraries – Closed through March 31.

Chandler Recreation Centers – Closed through March 31. Community Center, Environmental Education Center, Snedigar Recreation Center and Tumbleweed Recreation Center.

Chandler Parks are open. However, all park restrooms are closed until further notice so that cleaning supplies and staff resources can be directed to other areas.

Chandler Pools and Aquatic Centers – Closed through March 31st. The availability of Lap Swimming at select facilities will be re-evaluated as needed.

Chandler Senior Center – Closed through March 31. The Senior Center will continue to provide carry out or delivery of hot meals to senior residents who depend on this service.

Chandler Vision Gallery – Closed through March 31. 
Chandler City Council meetings will be closed to in-person public attendance until further notice. Residents are encouraged to watch live City Council meetings (Work Study, Study Session and Formal Meetings) on Cox Cable 11, CenturyLink Channel 8502, or streamed through the City's website at Chandler Video or YouTube.
Residents may submit a public comment related to agenda items or unscheduled public appearances at Public Comment. They must be submitted one hour before the meeting starts to be entered into the official record. For dates and times of upcoming Council meetings, visit Chandler Agendas.
All other City of Chandler facilities remain open, but residents are encouraged to use the City's online services. The public is encouraged to not enter a City facility if they are feeling ill, experiencing a cough, fever or shortness of breath.

SERVICES
Chandler Municipal Court is open, however, it is limiting court hearings to required in-person proceedings. Those hearings will be attended by parties, attorneys, victims, witnesses, jurors, court personnel and other necessary persons. This is necessary to maintain the recommended social distancing within the court facility. In an effort to reduce the number of court visitors, the Chandler Municipal Court is offering several methods to handle your case. You can do so by phone at 480-782-4700 or you may request an extension, continuance or payment plan online.
The Development Services customer service counter for plan reviews and walk-in consultations will be by appointment only starting March 23. Appointments can be scheduled by calling 480-782-3000. If you need to drop off plans, a self-service area will be available within the lobby. Phone and online services, including as-builts and public records requests, are available.

Fingerprinting service at the Police Department is unavailable at this time, pending daily review.

Passports Services are unavailable until March 27, pending daily review.

The Tax & License Service Counter is temporarily closed. Online, phone and email services as well as the payment drop box are available.

The Utility Bill Payment Counter is temporarily closed. Online, phone and email services as well as the payment drop box are available.
All other City of Chandler services remain available.

Visit Chandler COVID-19 Updates and follow official City of Chandler social media accounts to receive the latest information during this period.
 
Media contact:
Matt Burdick
Director of Communications and Public Affairs
480-782-2232