July 28, 2020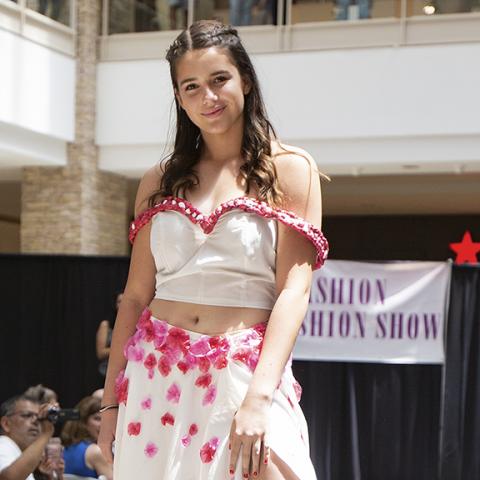 Chandler is seeking contestants for the City's 5th Annual Trashion Fashion Show, a celebration of wearable garments and accessories created from materials that might otherwise end up in the trash. The competition is open to established or aspiring fashion designers ages 10 years and older who want to showcase their resourceful, inventive and style-savvy creations for the public. Multiple designers can also form a team and enter.
Each year, Trashion Fashion Show participants think "outside the recycle bin" to transform trash or recyclables into inventive and stylish wearables. At least 75 % of a garment must be made from recyclable or reused materials that would otherwise be thrown away or recycled. Some of the materials used in previous year's winning entries included VHS tape, used CDs, caution tape, wire hangers, PVC pipe, cardboard, aluminum cans, plastic containers and a vinyl sheet from a Twister® game.
The entries are often surprising and inspiring for their creativity and ability to bring attention to the environmental necessity of recycling and sustainability. "Our Trashion Fashion Show is a unique way to get people thinking differently about waste and reuse," said Traci Conaway, Chandler's recycling specialist. "We're encouraging entrants to let their imaginations go, be wildly inventive, and have fun with their designs."
In the shadow of the COVID-19 crisis, this year's event will eliminate the in-person fashion show-style runway competition of past years that was held at Chandler Fashion Center. Instead, the 2020 show will require participants to record portions of their design and fabrication process and submit their video and several photos to the City for judging. Changes to the official rules and entry process are intended to protect the health and safety of participants, spectators, judges and event staff.
"Our competitors can use their mobile devices or cameras to record video of their efforts as they move through the design and manufacturing of their entries. This will let everyone see their creative process and skills, from the start of the project to the finish, and culminating with the modeling of their completed garment or ensemble," Conaway said.
Contestants will take their raw video segments and edit them into a single video compilation of approximately three minutes in length, which will be reviewed by the judges. Entries will be evaluated on creativity, design, craftsmanship and on their environmental message that connects the fashion, material used, and the material's effect on the environment.
Trashion Fashion Show entries are due on Friday, Oct. 23.
Participants, including all members of a team, must be residents of Arizona or attend an Arizona school. Entries will be accepted in three age categories: ages 10-13, 14-17 and 18-plus. Only the first 25 entries for each age category will be accepted. Prizes will be awarded to the winner in each category. A fourth category, Community Choice, has been added this year and will be voted on by the public through the City's social media accounts from Nov. 15-18. Winners will be announced through a 2020 Trashion Fashion Show video released on Nov. 20.
Additional details and the registration form can be viewed at chandleraz.gov/trashionfashion.
Chandler's Solid Waste Services Division is organizing the event and is inviting persons interested in assisting, mentoring or inspiring young designers to contact Conaway at traci.conaway@chandleraz.gov or 480-782-3510. In addition, prize donations are being accepted from local businesses.