March 6, 2019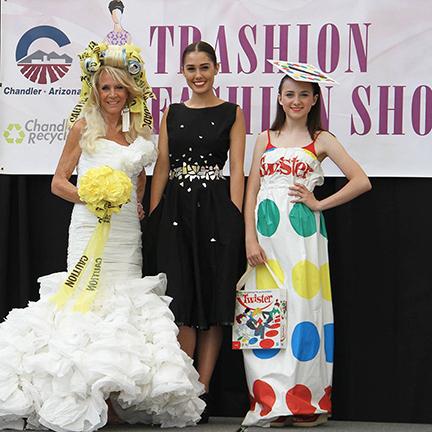 Chandler is seeking resourceful, inventive and style-savvy fashion designers to enter the City's 4th Annual Trashion Fashion Show, a celebration of wearable fashion created from materials that might otherwise end up in the trash. Designers ages 10 years and older have until April 12 to register for this runway fashion show which will be held at Chandler Fashion Center on Saturday, May 11, 2019.
Update: Participants do not have to be residents of Chandler.
Entries will be accepted in three age categories: ages 10-13, 14-17 and 18-plus. Registration forms and more information are available at Trashion Fashion.
A combination of trash and fashion, the Trashion Fashion Show provides participants with an opportunity to use their design skills to create and exhibit a garment created from discarded materials. At least 75 percent of a garment must be made from recyclable or reused materials that would otherwise be thrown away or recycled. Designers can choose to wear their garment in the show, or select a model.  
"Our Trashion Fashion Show is a unique way to get people thinking differently about waste and reuse," said Traci Conaway, Chandler's recycling specialist. "We're encouraging entrants to let their imaginations go, be wildly inventive, and have fun with their designs."
Chandler's Solid Waste Services Division is organizing the event and is inviting persons interested in assisting, mentoring or inspiring young designers to contact Conaway at traci.conaway@chandleraz.gov or 480-782-3510. In addition, prize donations are being accepted from local businesses.