Sept. 1, 2022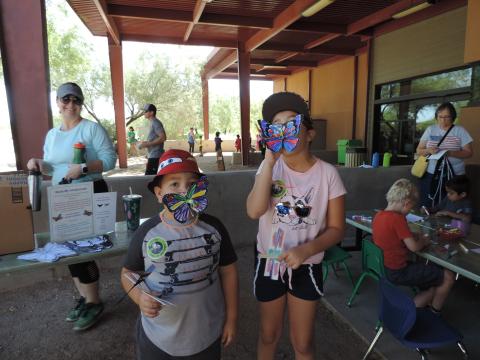 CHANDLER, Ariz. – Be a social butterfly and flutter over to Veterans Oasis Park and the Chandler Nature Center for a fun-filled morning of discovery as you learn about dragonflies and butterflies. The Center's annual Dragonfly & Butterfly Bash returns Saturday, September 17 at 9 a.m. with a chance to get up close and personal with butterflies and dragonflies attracted to the 113-acre Sonoran Desert landscape.
"Dragonflies, damselflies, and butterflies flutter over the wetland habitats at Veterans Oasis Park during the late summer," explains Cadia Hernandez, Recreation Coordinator, and event organizer. "As a steward of native and riparian plants, the park actively promotes the appreciation, understanding, and conservation of these habitats to promote the return of these magnificent insects each year."
This free, high-flying festival invites children and adults alike to be social butterflies as they explore the various species at all life stages. As festivalgoers stretch their wings across guided nature walks hosted by Arizona State University ecologists, they'll discover the enchantment of dragonflies from on-site experts.
The event will continue until noon with hands-on activities, crafts and giveaways, and special guest demonstrations from the University of Arizona's Insect Discovery and Butterfly Wonderland. Participants can also enter to win passes for a future trip to the one-of-a-kind Butterfly Wonderland experience.
"Take the opportunity to learn about these magnificent insects and explore our picturesque park, which is always gorgeous this time of year," says Hernandez.
Veterans Oasis Park and the Chandler Nature Center are located at 4050 E. Chandler Heights Road. The Center will remain open during normal business hours during the event so the community can experience the latest exhibits in the lobby. Guests also can enjoy shopping at the Owl's Nest Nature Store, featuring eco-friendly products and nature-inspired books and toys.
For more information on the Dragonfly & Butterfly Bash, call 480-782-2890.
Media Contact:
Tiffanie Hawkins
Marketing & Communications Coordinator
480-782-2910