Aug. 25, 2020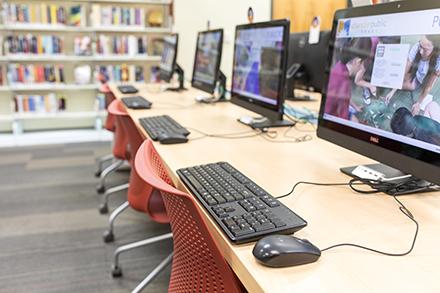 Are you or someone you know looking for work? Considering a different career path? Needing to develop new job skills? Help is available at your local Chandler Public Library.
While the national unemployment has dropped a bit in the last month, the COVID-19 public health crisis continues to affect local businesses and employment rates. If you or someone you know has been impacted by job insecurity, the Chandler Public Library provides resources and access to technology for anyone in the process of looking for a job or trying to make themselves more marketable to employers.
"Chandler Library offers online and in-person options to patrons including virtual access to job and career resources along with 45-minute reservations to use computers, Wi-Fi and equipment to fax, copy, scan and print," says Librarian Ted Liebler.
Those with a valid Chandler Public Library card or eCard also have free access to digital resources that are accessible at any of the four library locations, or online from home, or on a mobile device. Some of the resources available include Career Transitions, Learning Express Library, lyndaLibrary, ReferenceUSA and the Testing & Education Reference Center. Users can browse career paths, assess their interests, take online training courses. There are interactive questionnaires, resume and cover letter writing tips, practice tools for interview skills and more. There's even a job search tool powered by Indeed.
The Chandler Public Library also provides off-site links to assist those in a job search. One of the sites is a link to PipelineAZ, which collaborates with the City of Chandler's Economic Development Department. PipelineAZ assists individuals in finding a job with Arizona employers who are hiring now, as well as helping them with employment, education and financial resources to help them navigate their careers in this time of uncertainty. Users can explore real time job openings and/or register for virtual hiring events. Free career coaching is also available.
In order to access the online Chandler Public Library resources found at chandlerlibrary.org/research-job-resources, users must have a valid library card or get an eCard. Maricopa County residents and all residents of the Gila River Indian Community who live in Pinal County may apply for an eCard online at chandlerlibrary.org/get-a-library-card.
If a user would like to physically come to the library to use a computer or other resources, they can schedule a 45-minute appointment online at chandlerlibrary.org/book-it! or call 480-782-2800.