Jan. 13, 2022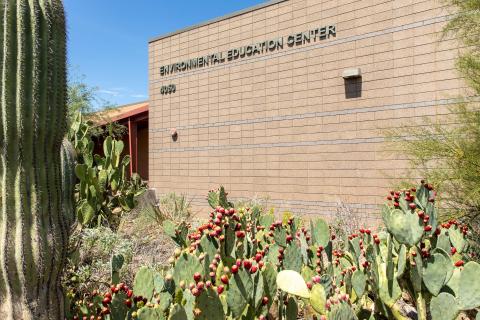 CHANDLER, Ariz. – The Environmental Educations Center (EEC) is getting a new name.
Park & Recreation Board members along with City Council unanimously agreed last year to rename the facility the Chandler Nature Center.
The new name reflects the center's mission to connect children and adults to the natural world and its many inhabitants but also broadens the scope of recreation classes and events that can be offered in a dynamic outdoor setting. Ariane Francis, Recreation Coordinator II, and manager of the center, located at Veterans Oasis Park, described the rebranding as a "subtle but very important shift" in the center's identity.
The Recreation Division was prompted to change the facility name so that Chandler residents understood they offer more than sustainability and environmental education. They are a full-service recreation center that is dedicated to providing engaging classes, field trips, camps, excursions, and so much more. A natural extension of "who we are" and "what we do" the center's new name was selected to:
Unite and represent the entirety of its community outreach, facility services, and programs.

Assist in clearly identifying the facility as a unique, regional entity designed to be a "green" teaching tool, educating patrons about sustainability and citizen science.

Enable consistency in messaging and better meet changing interests of the community.

Serve a wider range of community interests by offering services including art classes, day trips to nearby cultural and ecological wonders, and coding classes for young girls in STEM, all while retaining classic services like birdwatching classes, fishing clinics, and guided specialty hikes.
The Nature Center will continue to blend recreation, education, and promotion of sustainable lifestyles, but now be able to adapt to programming changes and a growing demand more readily for STEAM education and citizen science. Visitors may also continue to rent the center's spaces for meetings and family gatherings.
"Connection to nature is what we are all about," said Francis. "We put nature in your hands through our immersive programs, recreation, play, and research. We're looking forward to welcoming more of the community to our Center and providing everyone the opportunity to experience recreation and play through an environmental lens."
For more information on featured exhibits and activities, please call the Chandler Nature Center at 480-782-2890.