Nov. 16, 2022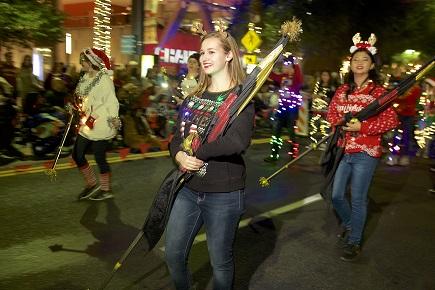 CHANDLER, Ariz. – There is no shortage of festive holiday events in Chandler this season. From the beloved Tumbleweed Tree Lighting to holiday shopping to free library events, you'll find your favorite way to celebrate.  
Chandler for the Holidays starts with a visit to the Tumbleweed Tree, which will be on display from Dec. 3 to Jan. 2, 2023 and selfies with the Sugarland display. Keep the tradition going with tickets to Ballet Etude's The Nutcracker, a family photo with the man in red at Santa's House and shopping during Small Business Saturday and Chandler Museum Store Sunday.
And while you shop, get an extra toy or two for Chandler Fire Department's annual Toy Drive and be sure to keep little elves, and teens, busy with free holiday craft workshops, movie matinees and other themed events hosted by Chandler Public Library.
Check out why the holidays are best spent in Chandler and mark your calendar for these fun-filled events. Advance tickets are necessary for some attractions and times and dates vary for select events. For more details, visit Chandler for the Holidays.
Nov. 25-27, Dec. 2-4
Ballet Etudes Presents The Nutcracker
A feast for the eyes and ears with colorful costumes paired with Tchaikovsky's original score, Ballet Etudes' Nutcracker is the perfect way to celebrate the holiday season with the entire family.
Nov. 26 – Jan. 2, 2023          
Sugarland
The Downtown Chandler Community Partnership is celebrating the holiday season with "Sugarland", an interactive display of holiday decorations for downtown visitors to enjoy in Dr. A.J. Chandler Park West. It's the perfect backdrop for family photos as dine and shop in Downtown Chandler. Don't miss the Sugarland Reveal party on Nov. 26 from 4-6 p.m. Be the first to see the displays and enjoy the Funergy show with holiday-themed music and games.
Nov. 26                      
Small Business Saturday
Find unique holiday gifts by shopping at the independent retailers in Downtown Chandler. Live musical performances will add to the fun.
Nov. 27          
Chandler Museum Store Sunday
Kick off the shopping season and be a patron at the Chandler Museum. The Chandler Museum Store features gifts for all ages, including locally made pieces that capture the culture, history, and art of Chandler. On Museum Store Sunday, shoppers will enjoy 10% off all purchases from 1-5 p.m.
Dec. 3            
Chandler Fire Department Toy Drive
Make the holidays a little brighter for Chandler children in need by donating a new, unwrapped toy from 2-8 p.m. Each donation will be rewarded with a ride in a fire truck. Donations will be accepted at the south entrance of the mall, near the food court valet area. In addition, Chandler Fire will accept donations from Nov. 14-Dec. 12 at all fire stations and the Fire Administration Headquarters at 151 E. Boston St.
Dec. 3                        
Tumbleweed Tree Lighting and Parade of Lights
Bring the whole family to celebrate the season with the glowing Parade of Lights, visits with Santa and other activities for kids and the lighting of the iconic Tumbleweed Tree.
Dec. 8, 10, 17            
Santa's House
Santa! You know him and he's coming to Downtown Chandler on select evenings in December. Visit with him at Santa's House, share your wish list and get a free photo courtesy of the Chandler Lions Club.  
Dec. 10                      
Sippin' Santas
"Sleigh" Downtown Chandler during the annual Sippin' Santa self-guided pub crawl. Wear your best Santa costume and enjoy $4 specialty drinks, food and fun at the merriest restaurants in town.
Dec. 10-18     
Tempe Dance Academy Presents 35th Annual Spirit of Christmas
This holiday tradition is an energetic variety show with more than 100 dancers, singers, a horse and carriage, special guest performers and a champion hoop dancer.
Dec. 13                      
Family Memories: Pictures in front of the Tumbleweed Tree
Make a lasting memory and have your photos taken in front of the Tumbleweed Tree by a professional photographer. Pictures are free and will be available for download on the City's website.
Dec. 16                      
The Doo Wop Project
Get into the spirit with old school holiday classics and contemporary favorites sung by the talented Doo Wop Project.
Dec. 31                      
New Year's Eve Celebration: Broadway Showstoppers
Celebrate New Year's Eve with the greatest hits from Broadway, from shows like Rent, Hamilton and Chicago, with six powerhouse vocalists and the Showtune Productions' live orchestra. Then ring in the New Year with a champagne toast and party favors.
Chandler Library – Free Holiday Activities
All four branches of the Chandler Public Library (CPL) will host a variety of free programs and events to celebrate the season. Registration is required for some programs. The four CPL branches are: Basha Library, 5990 S. Val Vista Drive; Downtown Library, 22 S. Delaware St.; Hamilton Library, 3700 S. Arizona Ave.; and Sunset Library, 4930 W. Ray Road.
Chandler Public Library holiday happenings include crafts, movies, gift making, games, storytelling and more. Below is just a sample of the free activities. For more information and additional seasonal activities, please visit the Chandler Public Library website.
Dec. 3
Hamilton Homemade Holidays
The Hamilton Teen Advisory Group presents a gift making workshop for kids while their parents can relax and watch a holiday movie at the Hamilton Library.

Movie Matinees
Teen Winter Movie Matinee at Basha Library from 2:15 to 4:30 p.m. on Dec. 5
Movie Mondays for Teens: The Nightmare Before Christmas at Sunset Library, 3-4:30 p.m. on Dec. 5
Monday Movie Matinee: Home Alone at Chandler Downtown Library from 4-6 p.m. on Dec. 5
Holiday Movie Matinee at Hamilton Library from 2-4 p.m. on Dec. 10 and Dec. 17
Movie Mondays for Teens: Elf at Sunset Library, 3-4:30 p.m. on Dec. 12
Dec. 6
Winter Wonderland Extravaganza!
Chandler Downtown Library pumps up the fun with winter games, snacks, crafts, music, storytelling and more.
Dec. 7
Winter Wonderland: Frozen Storytime with Queen Elsa
Come to Basha Library to sing and dance to Frozen-themed songs and enjoy a book read by Queen Elsa! The storytime will also include crafts and a photo opportunity with the ice queen.
Dec. 13
Noche de Cuentos
Bring your family to Chandler Downtown Library for an evening with stories, family customs, Mexican hot chocolate and cookies. Learn how oral history and the power of storytelling unite our community.  Dr. Rafael A. Martinez will lead this program and share how the Latino community in Chandler preserves its traditions. Each family will leave with a recipe book they will co-create while talking and learning about their own family traditions. The exhibit, "Sharing Our Heritage: Chandler Latino Voices" will be on display during this event. Enjoy traditional Mexican cookies and hot chocolate as Dr. Martinez leads a walk along through the exhibit. This program is in partnership with the REFORMA, Chandler Division of Diversity, Equity & Inclusion, and the Chandler Museum.
Dec. 16
Grab & Go: Snowflake Crafts
All library branches will offer a free Grab & Go Activity Kit for young children. Make snowflake crafts to decorate and display a family photo.
Dec. 20
DIY Teen Ornaments
Teenagers can explore their creativity and design a personalized winter ornament at Chandler Downtown Library. All materials will be provided.
Visit the Chandler for the Holidays webpage for a full list of events and more details
Media Contact:
Toni Smith
City of Chandler, Communications Manager
480-782-2701