June 22, 2020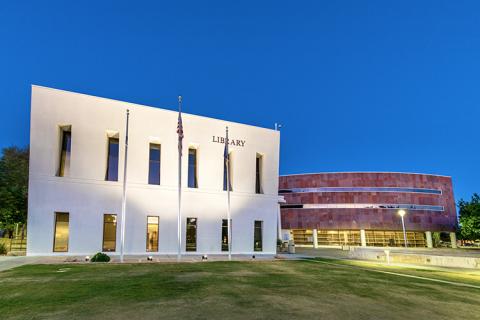 Chandler Public Library has been awarded four grants totaling $42,206 through the Library Services and Technology Act (LSTA) for projects developed by library staff to better meet the needs of the community.
These grants are awarded through the Institute of Museum and Library Services (IMLS) and provide funding to support library services in all 50 states, the District of Columbia, and the Territories. In Arizona, those funds are administered by the Arizona State Library, Archives & Public Records, a division of the Secretary of State, and dispersed in the form of statewide initiatives, sub-grants, and cooperative agreements.
Chandler Public Library's four grants include $17,384 awarded to Chandler Hamilton Library for DSLR cameras, editing software and other equipment that will be used to conduct photography programs and classes for students and the general public. Some of the equipment will be used at the library for year-round programming, while the rest of the equipment will be checked out to students in the photography classes taught each semester.
"Photography is a lifelong learning option that can be done at any age, yet oftentimes the cost of the necessary equipment and technology is too high," said Jill Baker, librarian and instructional specialist. "Our goal with this grant will be to increase the public's knowledge of digital cameras, photography, videography and editing software while providing community members access to the hardware, software and training they need to make photography a career option or a new hobby."
A partnership between Chandler Public Library and the Chandler Museum received a $16,822 grant for "Building Bridges, Collections, and New Media Skills," a digital history collaboration focused on collecting oral histories from Chandler's African American community. The funds will be used to purchase audio-visual hardware and software that will be used at The Makery, a maker-space production studio at the Downtown Library, where interviews will be conducted starting in the fall. The project also will provide opportunities for community members to build digital literacy skills with current and emerging media creation tools in an inclusive learning environment.
The Downtown Library also received a Collections and Programming (CAP) grant in the amount of $4,000 for a program that will be aimed at new and emerging adults, ages 18-30; a group that tends to disengage from library programs after high school and does not re-engage until they have children. The Graphic Novel Book Club funding will be used to purchase books – both physical and digital – and for programming related to graphic novels, manga and pop culture, a popular entertainment medium with this age group.
The final grant of $4,000 will help the Library deliver top-quality training for staff who are unable to attend other training events offered by the State Library. The program "Developing a Culture of Organizational Citizenship with Strategic Planning" will bring a guest speaker to the annual Staff Development Day in October. Dr. Rachel Rubin, Associate University Librarian for Research and Learning at the University of Pittsburgh, will share her expertise on organizational citizenship and healthy organizational culture.
"Our continuing mission at Chandler Public Library is to work together to meet our customers' needs, provide outstanding service and strive to be the best public library system in the state," said Library Manager Rachelle Kuzyk. "These LSTA grants will help us provide four new programs to better serve the needs of the community, while we also support the professional development of our Chandler Public Library staff." 
For more information about the Chandler Public Library, visit chandlerlibrary.org or call 480-782-2800.