Sept. 3, 2021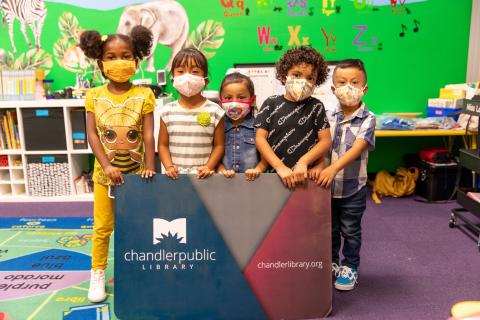 CHANDLER, Ariz. – Whether you're hoping to learn a new skill, discover new worlds, or just need some entertaining reading material, then Chandler Public Library (CPL) has you covered. All it takes is a library card to gain access to the wealth of resources and activities.
September is Library Card Sign-up Month, and it's the perfect time to sign-up or renew a CPL card at no cost. CPL cardholders can access thousands of materials including books, audiobooks, magazines, movies, music, and more. The library also offers tools to members, including fax and copy services, free WiFi, and nearly 350 computer systems intended for public use. In addition, a variety of free programs are offered every month to provide education, entertainment, and creative outlets for patrons of all ages. Visit the Library's event calendar for the most up-to-date information.
Chandler residents and nonresidents can sign-up for a library card in person by visiting one of CPL's three locations or online at Get a Library Card.
Chandler Public Library joins the American Library Association, and libraries nationwide for National Library Card Sign-up Month, to encourage community members to obtain a free library card that will save them money while reaping rewards in academic achievement and lifelong learning.
Media Contact:
Tiffanie Hawkins, Marketing & Communications Coordinator
480-782-2910