April 27, 2023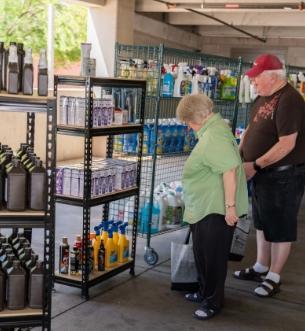 CHANDLER, Ariz. – The City of Chandler is celebrating the one-year anniversary of its Golden Neighbors program from 9–11 a.m. Wednesday, May 10, on the first level of the City Hall parking garage, 240 S. Washington St.
Golden Neighbors was created by the City's Neighborhood Programs staff with the premise of ensuring our seniors are not forgotten and to provide them with a direct connection to local nonprofits. During its first year, the program has served more than 200 senior residents.
The free program connects senior residents with resources for cost-of-living assistance and large home repairs, basic household supplies, and assistance finding transportation to medical appointments. Golden Neighbors also provides participants with opportunities to come together and build community with other senior residents experiencing similar challenges.
Golden Neighbors has provided volunteer opportunities for many local organizations, including Amazon, Chandler-Gilbert Community College, Salvation Army Chandler and Starbucks. This past year, an employee with Hensel Phelps selected Golden Neighbors to receive donations from its employees and collectively, they have donated more than $2,600. In addition, a grant from Amazon (initially received in 2020) has been used to pay for supplies such as gravel and exterior paint to assist seniors with closing out code violations on their property.
During the one-year celebratory event, attendees will receive a bag filled with toiletries and personal hygiene items. Representatives from the Salvation Army Chandler and Resurrection Street Ministry also will be on site to share information about available resources.
Also, due the program's success, Golden Neighbors is a finalist for a "Best Neighborhood Program" award by the Neighborhood USA (NUSA) organization and the winners will be announced during the NUSA conference next month.
For more information about the upcoming event, contact the City's Neighborhood Programs Office at 480-782-4363. To learn more about the program and how to get involved, or make a donation, visit Golden Neighbors.


Media contact:
Stephanie Romero
City of Chandler, Public Information Officer
480-782-2231