Sept. 29, 2020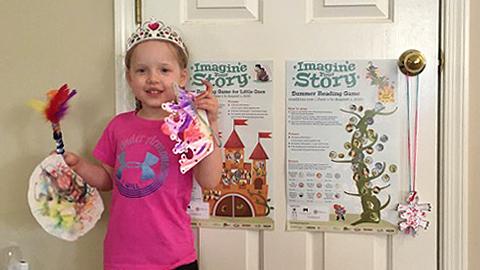 After many months of restricted access and limited hours, the four Chandler Public Libraries have reopened all public areas to customers. A protective face mask is required to enter, capacity is reduced for social distancing purposes and a registration process is in place for 45 minute sessions allotted for some services, such as computer access. Additionally, some reductions in hours of operation remain in place, with these facilities closed on Saturdays and Sundays until further notice.
For library customers and staff, these incremental adjustments are positive moves towards a future return to pre-COVID-19 service levels. Until that time arrives, Chandler Public Library staff continues to provide services and develop new online or take-home programs; all while working to reestablish relationships with library users who may not know that facilities are open once again.
"For many people their neighborhood library is like a second home away from home, and that feeling is back now that people are walking through our doors. We have missed people browsing our book stacks, using our computers, or just sitting and reading quietly," said Library Manager Rachelle Kuzyk. "But we could not reopen until we found a way to strike a balance between providing service to the community and maintaining a reasonably controlled and safe environment for the public and staff. I think we have accomplished that."
Among the most successful initiatives developed by Library staff in recent months are Grab 'n Go kits and a variety of digital content targeted to specific library users. These programs are supported by a $10,000 Coronavirus, Aid, Relief and Economic Security Act (CARES Act) grant approved by the Arizona State Library and the Institute of Museum and Library Services (IMLS).
Grab 'n Go kits are bags full of learning activities, books and reading recommendations, printed instructional materials and more developed for different age groups. Kits are available for parents and caregivers wanting to support their child's educational needs, teenagers who no longer have access to afterschool programming, unemployed adults in need of job search resources, and older adults who miss the social interactions they previously garnered from monthly book discussions and other adult programs. Grab 'n Go kits are especially important resources for families and individuals without home internet service.
The CARES Supplemental grant also enabled the Library to purchase laptops, tablets and video editing software to assist staff in recording how-to videos and virtual programming. The equipment is used to create quality Early Literacy Program videos for infants and toddlers, including recordings of Lapsit, Toddler Time and Storytime sessions. Teen volunteers have been tasked with creating STEAM and STEAM Jr. videos for young students, which help teens fulfill academic requirements and give them positive activities during a period of social disruption and increased social anxiety. Additional videos demonstrate where adults can find the Library's extensive collection of online job search resources, and how teachers can access free databases, eBooks and other digital resources through the Chandler Library website.
Chandler Library also received $5,188.69 from the Arizona State Library, Archives & Public Records, a division of the Secretary of State, with federal funds from the Institute of Museum and Library Services. The grant is part of their Diversit-E: eContent for Public Libraries initiative, which supports the development of digital content related to the topics of equity, diversity, inclusion and social justice. Chandler Library used the funds to add 151 new digital titles (80 ebooks and 71 audio books) related to these topics that will be available through the CloudLibrary.
"Public Libraries, by definition and mission, are committed to promoting racial equality diversity and inclusion," said Chandler Administrative Librarian Marybeth Gardner. "The library exists for anyone seeking knowledge and understanding.  Our new Diversit-E collection is a resource for our community to tap into as the nation explores the ideas of personal responsibility, systemic change, and social transformation."
For more information regarding any of the library services or resources mentioned, please visit chandlerlibrary.org, or call 480-782-2800.
Letter to Chandler Public Library, from a grateful parent:
"I wanted to send a big thank you to the staff members who have been putting the activity bags together! They've kept my kids entertained all summer long and we look forward to each new bag! I attached a few pictures for you to see these bags and activities in action! We have also been loving the book recommendations that are included! We love the Sunset library! I know this spring/summer has been tough on everybody, but you guys have gone above and beyond to provide a much-needed service and to continue to serve families like mine who are desperately missing story time and weekly library trips!"
      --  Kirsten Mussi, mother to Paige, age 4, and Cole, age 2