July 15, 2019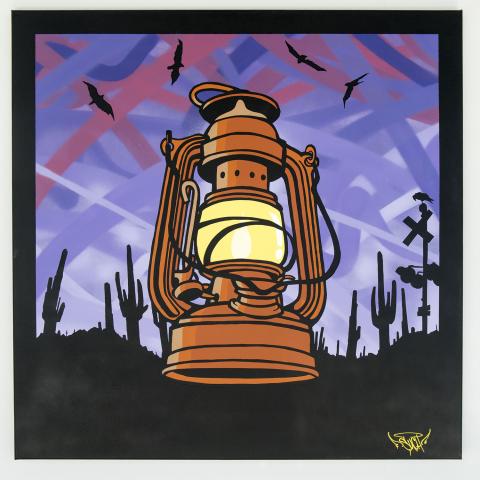 The Chandler Museum presents Inspired by History, a collaborative exhibition with Chandler's Vision Gallery opening July 30 and continuing through Oct. 13.    
Our everyday objects may not be so ordinary when seen through the eyes of an artist. This collaboration takes objects from the Chandler Museum's artifact collection and puts them on display alongside artwork inspired by the objects and created by a local group of emerging and mid-career artists. Using abstraction, manipulation and interpretation, the artists create works that explore the connections between people and objects, within an exhibit that considers memory, continuity, and change over time.
"I've worked with the museum's artifact collection for 13 years, but to walk through our collection storage space with the artists and hear their reactions and perspective on our objects was really intriguing," says Nate Meyers, curator of collections at the Chandler Museum. "Even though each of these objects has its own story that tells its connection to Chandler and the people that have lived here, these participating artists have brought their own perspectives. Their inspiration helped me see these objects in a new light."  Meyers continues, "This exhibit provides a great chance to see some of the artifacts in our collection that haven't been displayed in recent years."
Chandler's Visual Arts Coordinator Peter Bugg notes that a similar version of this exhibit was hosted at the Vision Gallery at Chandler City Hall in 2018. "Our visual arts staff really enjoyed collaborating with the Museum last summer to create a dynamic exhibition, and we are excited to be working with them again," Bugg says. "This collection of diverse and talented artists has created another crowd pleasing exhibit, and we are excited for the Museum to be the host."
Another new element in this version of the exhibit is a "Your Turn" station where Museum visitors can create their own historically inspired art by choosing an artifact and using the provided materials and prompts to express their creativity.
A public reception with the artists featured in this three-month collaborative exhibition will be held from 6-8 p.m. Thursday, Aug. 1. Refreshments will be served. More information on this exhibition can be found at Chandler Museum.
Chandler Museum is located at 300 S. Chandler Village Drive. Hours of operation are 10 a.m. to 5 p.m. Tuesday through Saturday, 1-5 p.m. Sunday, and closed Monday. Admission is free.
Media contact:
Craig Younger
Public Information Officer
480-782-2701