March 5, 2019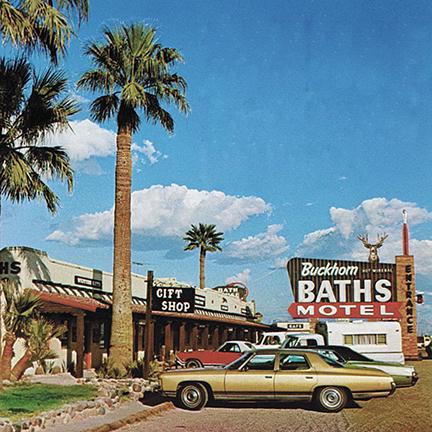 A little known set of historic buildings and an old mineral springs in Mesa hold an interesting connection to the beginnings of Major League Baseball (MLB) Spring Training in the Valley. The next Our Stories speaker series in Chandler takes a look at the iconic Buckhorn Baths, a classic roadside stop in Mesa for decades. The presentation starts at 10:30 a.m., Saturday, March 30, at the Chandler Museum, 300 S. Chandler Village Drive. 
Over the course of seven decades, the Buckhorn Mineral Baths and Wildlife Museum became one of Mesa's and the State's most recognizable and memorable Main Street icons – attracting celebrities and others to its healing waters, wildlife museum and quirky amenities. Arguably, the Buckhorn was a chief influence on enticing MLB teams to begin annual spring training in Mesa and elsewhere in the Valley. 
This program will include a lively presentation with many never-before-seen historic photographs. With the future of the Buckhorn in doubt, this fascinating account of the founders, Ted and Alice Sliger, and their rags-to-riches story should not be missed.
Preservation architect Ron Peters, and Jay Mark, co-authors of a recently published book about the Buckhorn, researched thousands of images. Ron is a practicing Mesa architect, planner and artist with more than 40 years of experience and specializing in preservation and renovation projects. Historian Jay Mark's career includes antiques and bookstore owner, commercial photography, professional theater, radio and television. A regular contributor of history-related articles to the Antique Register, Arizona Contractor and Community, and The Arizona Republic, Jay is also a published writer of seven antiques-related books.
Our Stories presents diverse speakers who share unique Arizona and local history topics to a general audience. This series is produced throughout the year by the Chandler Museum, Chandler Public Library, Chandler Historical Society and Friends of the Chandler Public Library. 
In April, the Our Stories speaker series will highlight the story of Russell Moore, an Akimel O'odham member of the Gila River Indian Community born in 1912, who played trombone with Louis Armstrong, Lionel Hampton, and others during his long jazz career.  
For additional information on this program, call 480-782-2717, or visit the Chandler Museum website.