Jan. 7, 2019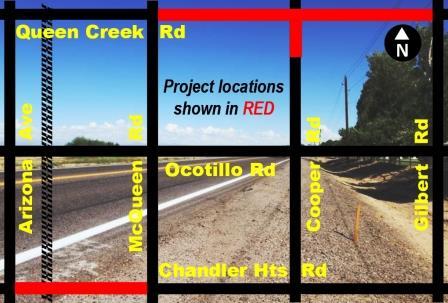 The City is holding back-to-back meetings with the community to discuss roadway improvements to begin along sections of two major streets in south Chandler; Queen Creek Road between McQueen and Gilbert roads and Chandler Heights Road between Arizona Avenue and McQueen Road.
The City Council recently approved a $13 million construction contract with Sunland Asphalt & Construction to widen Queen Creek to three lanes in each direction and an $8 million contract with Hunter Contracting to widen Chandler Heights to two lanes in each direction. Construction on each project will begin in late January.
The consecutive public meetings will be held in a single evening, Wednesday, Jan. 16, 2019, at Chandler's Municipal Airport Terminal, 2380 S. Stinson Way. City staff will discuss each project's pending construction and answer questions. The Chandler Heights Road project will be discussed from 5:30-6:30 p.m. and the Queen Creek Road project will be discussed from 6:30-7:30 p.m.
The Chandler Heights Road improvement project is expected to take 11 months to complete. The Queen Creek Road project is expected to take 17 months to complete and includes adding the second southbound lane to Cooper Road south of Queen Creek Road to Nightingale Lane. 
More information is available by calling the project hotline for both projects, 480-898-4060.
----------------------------------------------------
(Chandler Heights Road Improvements Project Nos: ST1502.401/CHN0237D/SZ17001C)
(Queen Creek Road Improvements Project Nos: ST1306.401/CHN0228D/SZ10501C)