Sept. 13, 2018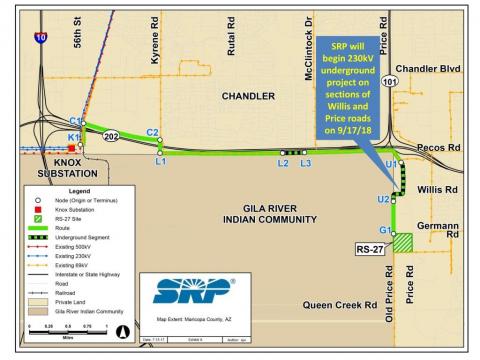 Chandler has spent the last six months and $5.6 million relocating water and sewer mains beneath a stretch of Price Road to make way for the undergrounding of a 230-kilovolt powerline by Salt River Project (SRP). The new line will support current and projected energy needs in the area known as the Price Road Corridor.
With the City's underground utilities now out of the way, SRP is ready to begin placing their powerline beneath Price Road south of the Loop 202 Santan Freeway. The SRP construction will begin Monday, Sept. 17, and involve the excavation of a large trench and installation of conduit that will encase the powerline.
Initial work will occur along the City's western border with the Gila River Indian Community, south of Willis Road, then head east on Willis to Price Road, then north on Price approximately 700 feet.
This first segment of underground construction will be completed by the end of November, then pick up again in March 2019, heading northward on Price to the Loop 202 and then along the south side of Loop 202 at Stellar Air Park. This segment will conclude by July 2019.
The decision to underground the electrical lines followed numerous public meetings and various above-ground alternatives that met with public opposition due to their proximity to neighborhoods. The City and SRP reached an agreement in June 2017, to underground the powerlines along Price Road, away from neighborhoods.
Price Road will remain open to traffic during SRP's construction, but lane restrictions will occur. Business and resident access will be maintained throughout the project. Project information is available online at srpnet.com/prc.