Aug. 11, 2023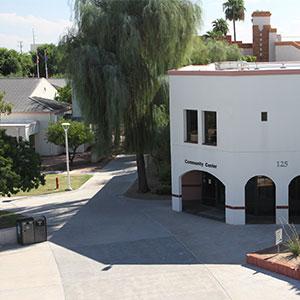 CHANDLER, Ariz. – Enjoy Chandler's A-list teen bands as they take center stage at the Chandler Community Center during Concerts in the Courtyard. This new free event will take place once a month, from September through November. Concertgoers can indulge in snacks, lawn games and family-friendly live performances from 6-8 p.m. The schedule of bands is as follows:
Sept. 8 – Blue Cheese

Oct. 13 – Malfunction

Nov. 3 – Zero Reasons
"As someone who was once a teenager trying to start a band, I know how difficult it can be to find somewhere to perform," said Kennedy Terrill, Recreation Coordinator, and event organizer. "I recognized that we have the perfect space here at the Chandler Community Center for these bands to play and get the experience they need to propel their musical career while Chandler residents come together to have a fun, laid-back evening with family and friends."
Chandler residents and nonresidents alike are invited to attend and support our local teen bands. The Chandler Community Center is located at 125 E. Commonwealth Ave. For more information on Concerts in the Courtyard, visit Teen Programs or call 480-782-2730.
Media Contact:
Kate Smith
Marketing & Communications Analyst
480-782-2865