May 21, 2020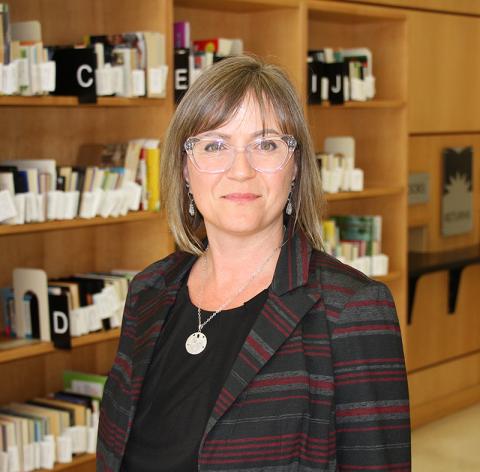 The City of Chandler's new library manager is now on the job, overseeing the operations of the Chandler Public Library system after completing her move from Canada. Rachelle Kuzyk started with the City on May 20. She brings extensive experience to Chandler from the City of Wetaskiwin, Alberta, where she served as the director of Community Services, following eight years as Wetaskiwin's Manager of Library Services.
In Wetaskiwin, Kuzyk facilitated a complete library revitalization project, implemented numerous innovative programs, and was instrumental in the creation of a new outdoor library space and playground for the community. Previous to that, she worked in large urban systems like Calgary Public Library as well as in smaller community libraries. She is experienced in working with government officials and ready and willing to getting messy in children's craft programs. In her 23 year library career, Kuzyk has touched nearly every role and responsibility in her field. 
Libraries have played an important role in Kuzyk's life since childhood; so much so that it came as no surprise to those who knew her best that she would be destined for a career in library service. "Libraries matter, today more than ever," Kuzyk says. "Public libraries impact communities in many beneficial ways, providing much needed services and value to taxpayers. The Chandler Library team demonstrates this every day. That's why I'm incredibly excited to make Arizona my new home and to be joining this stellar organization."
Kuzyk joins Chandler in the middle of the COVID-19 public health crisis as the Library moves into Phase II of its reopening plan. She is certified in emergency Incident Command Systems and served in one of two Deputy Director of Emergency Management roles for the City of Wetaskiwin as the Covid-19 situation evolved.
"The pandemic has impacted every community, every local government and every public library," she says. "While most people have utilized the library's online services during this period, there are others who depend on our in-person services. Our staff has worked very hard to prepare our facilities for a phased reopening that protects the public as much as possible while we continue to serve the people of Chandler."
"We are excited to add Rachelle to our Chandler Public Library Team," says Community Services Director Andy Bass.  "We look forward to her leadership in continuing Chandler's tradition of strong library services and programs and finding innovative ways to make Chandler a great place to live."
As Kuzyk and her husband settle into their life in Chandler, they are finding new ways to connect with their four grown sons and many friends who remain in Canada. They look forward to making new friends in the coming years while they discover local restaurants, explore Arizona's beauty and play a little canasta.