Sept. 10, 2019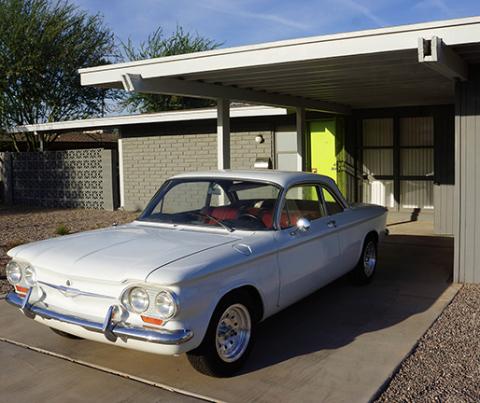 The next Our Stories speaker series on Saturday, Sept. 28, 2019, will shine a light on the stylish Chandler mid-century neighborhoods, houses, churches and commercial buildings that still exist today, as well as a few that no longer do. The free presentation is from 10:30 a.m. to noon at the Downtown Library, 22 S. Delaware St.
The presenter, Holly Metz, is a photographer and owner of a mid-century home in Chandler. She will share information about her intrepid and enthusiastic search to find, restore and research her home's innovative contemporary architecture. Mid-century modern design celebrates the natural desert environment by blurring the line between indoor and outdoor. It emphasizes sleek lines, interesting angles and organic shapes. It was popularized during Arizona's post WWII era and created for, and available to, the average person.
Metz will also talk about Glenn McCollum, a prolific mid-century Arizona architect based in Chandler. Throughout his 37-year career from 1954 to 1991, McCollum designed nearly 500 contemporary projects, all hand drawn and specified, throughout Chandler and Arizona. His designs included well known Valley icons like Tri-City Mall, Westown Shopping City and Papago Plaza (before its change in the 1980s to a pueblo style).
In 2009, Metz was featured in Phoenix Home and Garden Magazine, where she was named an Emerging Artist of the Southwest. Her photography has been exhibited at the Desert Botanical Garden and Phoenix Sky Harbor Airport. She is also the Senior Curator at the Huhugam Heritage Center of the Gila River Indian Community.
Our Stories is a free speaker series open to the public, with each session sharing first-hand accounts and expert insights into the history of Chandler, the Valley and Arizona. It is produced and hosted by the Chandler Public Library and the Chandler Museum, with support from the Friends of the Chandler Public Library and the Chandler Historical Society.
In October, Our Stories reflects on the 100 year history and four generations of Serrano family businesses in Chandler. While the famous East Valley-based restaurants got their start in Downtown Chandler in 1979, the Serrano family owned and operated a general dry goods store (The Popular Store) and several clothing stores for many decades. Ernie Serrano Jr. will share the story of the family's unique Arizona roots and the tenacity behind building and operating the oldest, continuously owned family business in Chandler. The free presentation on Saturday, Oct. 19 begins at 10:30 a.m. at the Downtown Library, 22 S. Delaware Street.
For additional information on this program, call 480-782-2751, or visit chandlerlibrary.org.