Jan. 21, 2020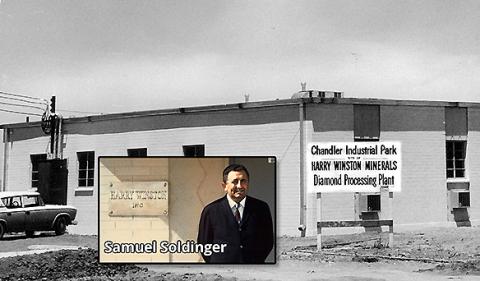 The next Our Stories speaker series on Saturday, Feb. 29, 2020, will share the story of a World War II Holocaust survivor who came to Chandler in 1962 to work in a local diamond manufacturing facility. "Death and Diamonds: The Story of Samuel Soldinger," will be presented at 10:30 a.m. Saturday, Feb. 29, at the Chandler Museum, 300 S. Chandler Village Drive.
Born into a Jewish family in Poland in 1924, Samuel Soldinger found himself and his family confined to the Krakow Ghetto after the Germans invaded. While everyone around him died, Samuel survived the Holocaust working in Oskar Schindler's factory. After the war he learned to cut diamonds and moved to New York City. In 1962, Soldinger arrived in Chandler to manage the new Harry Winston diamond processing plant on Pecos Road. Chandler Museum Collections Coordinator Nate Meyers will share Soldinger's dramatic story.
Our Stories is a free speaker series open to the public, with each session sharing first-hand accounts and expert insights into the history of Chandler, the Valley and Arizona. It is produced and hosted by the Chandler Public Library and the Chandler Museum, with support from the Friends of the Chandler Public Library and the Chandler Historical Society.
For additional information, call 480-782-2717, or visit Chandler Museum.

Media contact:
Craig Younger
City of Chandler, Public Information Officer
480-782-2701