Jan. 23, 2019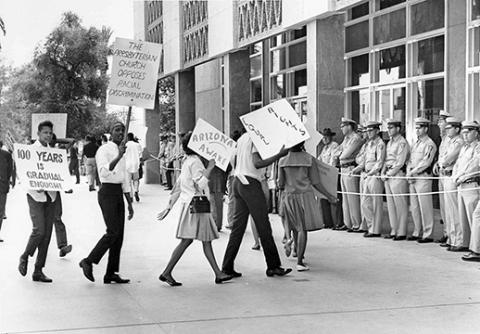 The mid-twentieth century was a time of sweeping social change in the United States as African Americans and others came together to push for equality and better race relations. The impact of that movement locally is the subject of the next Our Stories Speaker Series presentation from 10:30 a.m. to noon Saturday, Feb. 9, at Chandler Sunset Library, 4930 W. Ray Road.
"Looking Back at Phoenix's Civil Rights Movement, 1945-1970" will feature historian Mary Melcher talking about how the national Civil Rights Movement manifested in the Phoenix area from 1945 to the late 1960s. This presentation will highlight the stories of some of the African American community leaders of the movement, and how the Jewish community joined in support. Other interesting topics include Martin Luther King Jr.'s visit to the Valley in 1964, as well as how women were instrumental in the push for civil rights locally. Explore these facets as well as learn which Chandler residents had a connection to this time in local history.
Our Stories presents diverse speakers who share unique Arizona and local history topics to a general audience. This series is produced throughout the year by the Chandler Museum, Chandler Public Library, Chandler Historical Society and Friends of the Chandler Public Library. 
In March, the Our Stories Speaker Series explores Arizona's spring baseball training history and ties it in with a unique historic site in Mesa. Over the course of seven decades, the Buckhorn Mineral Baths and Wildlife Museum became one of Mesa's and the State's most recognizable and memorable Main Street icons – attracting celebrities and others to its healing waters, wildlife museum and quirky amenities. Preservation architect Ron Peters, co-author of a recently published book about the Buckhorn, will join co-author Jay Mark for this presentation featuring the story of the establishment and its owners, as well as many never-before-seen historic photographs.
For additional information on this program, call 480-782-2717, or visit chandleraz.gov/museum.