Jan. 3, 2019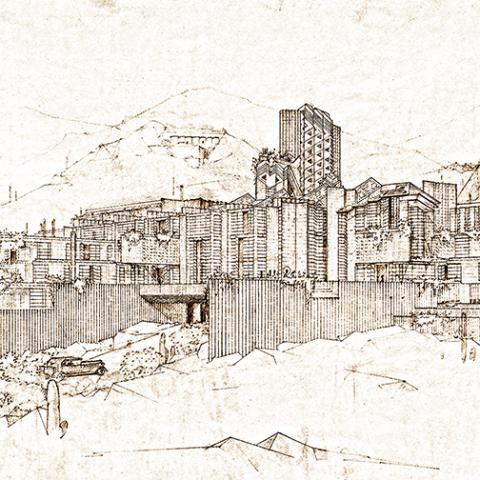 The friendship that grew out of a business relationship between Dr. A.J. Chandler and famed American Architect Frank Lloyd Wright is the subject of the next Our Stories Speaker Series presentation. "Frank Lloyd Wright and a New Vision for Chandler" will be held from 10:30 a.m. to noon Saturday, Jan. 19, at the new Chandler Museum, 300 S. Chandler Village Drive.
Wright began a business relationship with Chandler's founder shortly after they met in 1927. Their friendship soon blossomed and Wright and members of his team of architects spent time in Chandler from the late 1920s through the mid-1930s working on various projects in and around the town. While most of these projects never came to fruition, his vision for Chandler was inspired by the Sonoran desert and the unique landscape of the surrounding area.
This Our Stories presentation from Chandler Museum Administrator Jody Crago will cover a variety of Wright's projects in the area, including San Marcos in the Desert and Broadacre City. Letters and recent research will give attendees a fresh look at Wright's design efforts in Chandler.   
"Frank Lloyd Wright's was inspired by Dr. Chandler," says Crago. "Dr. Chandler showed Wright a particularly beautiful spot in the desert that so inspired him that he documented it in his autobiography." Wright wrote, "Well, there could be nothing more inspiring to an architect on this earth… At last here was the time, the place, and here was – in Dr. Chandler – the man."
This presentation coincides with "Frank Lloyd Wright: Architecture of the Interior," an exhibition on view at the Chandler Museum from Jan. 13 through March 17. Through 19 reproduction drawings, eight photographs, and four photographic murals, the exhibition explores the interior design of Wright's houses, often considered his greatest architectural accomplishment. The exhibition illustrates the myriad of ways, both obvious and subtle, in which Wright created the visual character of interior space and the objects within, each an essential detail of the larger whole.
"Frank Lloyd Wright: Architecture of the Interior" is organized by International Arts & Artists, of Washington, DC, in cooperation with the Frank Lloyd Wright Foundation, of Scottsdale, Ariz. 
Our Stories presents diverse speakers who share unique Arizona and local history topics to a general audience throughout the year. This series is produced by the Chandler Museum, Chandler Public Library, Chandler Historical Society and Friends of the Chandler Public Library. 
In February, the Our Stories Speaker Series looks at the how the civil rights movement played out in the Phoenix area between the late 1940s and the 1960s. The presentation will share some of the key issues and highlight African American leaders during this time. In addition, it will explore how members of the Jewish community played a role and the importance of women in the movement during this time.
For additional information on this program, call 480-782-2717 or visit chandleraz.gov/museum.