April 15, 2022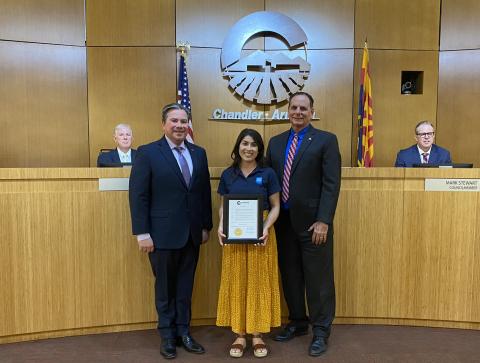 CHANDLER, Ariz. – The Chandler City Council met at 6 p.m. Thursday, April 14, taking action on a total of 26 consent agenda items. Highlights from the meeting included:
Adopted an agreement for micro transit services with River North Transit ("Via") for a two-year period, in an amount not to exceed $2,173,471. Additionally, authorized the acceptance of $2,000,000 in grant funds from A for Arizona. This grant will fund the majority of startup costs and operations costs for the micro transit service for two years.

Approved an agreement

in a combined amount not to exceed $1,968,000

with

Andrew's Concrete, Inc.; Degan Construction, LLC; Lincoln Constructors, Inc.; Precision Concrete Cutting, Inc.; Vincon Engineering Construction, LLC; and W.L. Emshoff, for concrete repair and maintenance services. These agreements will enable the City to continue to make progress toward its ADA Transition Plan by making necessary concrete-related improvements at Tumbleweed Park, Snedigar Park, Pima Park, Sunset Park, Basha Library, Hamilton Library, transit stops and other City facilities and rights-of-way.

Approved a resolution authorizing an Intergovernmental Agreement between Kyrene Elementary School District No. 28 for the shared use of City and District property. Both parties have agreed to make facilities available to each other at no rental fee other than direct expenses and/or damages.

Introduced and tentatively adopted the ordinance approving the annexation of approximately 10.12 acres and initial city zoning, at the southeast corner of Chandler Heights Road and 124th Street, as recommended by planning staff.
Introduced and tentatively adopted the ordinance approving Hazelwood by Keystone Homes, rezoning from Agriculture-1 to Planned Area Development for a single-family residential home development located at the southeast corner of Chandler Heights Road and 124th Street; approved preliminary development plan for Hazelwood subdivision layout and approved preliminary plat, subject to the conditions as recommended by the Planning and Zoning Commission.

Approved the purchase of Microsoft Software licenses from CDW-G in an amount not to exceed $778,120.

Approved a sole source purchase of Huber EscaMax custom-made screens, from Goble Sampson, Inc., in an amount not to exceed $1,500,000.  

Approved the purchase of a Bobcat Skid-Steer loader, from Bingham Equipment Company in the amount of $65,561.21.

The equipment will be used to clean roadways, remove excess sludge at the Solids Dewatering Building, move polymer totes and the grit dumpster, and perform other miscellaneous excavations throughout the Airport Water Reclamation Facility.

Recommended a Series 9 liquor store liquor license be approved by the State Department of Liquor Licenses and Control for C-Chandler Liquor, located at 955 W. Chandler Blvd.
During Thursday's meeting, a briefing on the current status of the Diversity, Equity and Inclusion Assessment was presented to the City Council.
The meeting adjourned at 7:10 p.m.
At the Study Session, the Mayor and City Council proclaimed:
April 16-23, 2022, as Rotary Service Week

April as Water Awareness Month

April as National Child Abuse Prevention Month

April as Fair Housing Month
In addition, the following received recognition:
2022 Chandler Innovation Fair Competition Winners

2022 National League of Cities City Cultural Diversity Award
The next meeting of the Chandler City Council will be at 6 p.m. Monday, April 25. Council meetings are aired live, as well as replayed on the Chandler Channel - Cable Channel 11, streamed online at chandleraz.gov/video and on YouTube at youtube.com/cityofchandler.
- 30 -
 
Note: These are not official meeting minutes of the City Council but rather a brief recap of the Council's actions provided as a courtesy of the Chandler Communications and Public Affairs Department.
The City Clerk's office posts official meeting results the morning following Council meetings. For a complete list of actions taken, visit chandleraz.gov/MeetingsAndAgendas. Throughout the agenda, items are posted in red to signify any changes made at the meeting, and who voted no, or abstained.
For past City Council meeting minutes, visit chandleraz.gov/MeetingsAndAgendas or contact the City Clerk's Office at 480-782-2180. For any other information, contact the Communications and Public Affairs Department at 480-782-2000.