May 2, 2022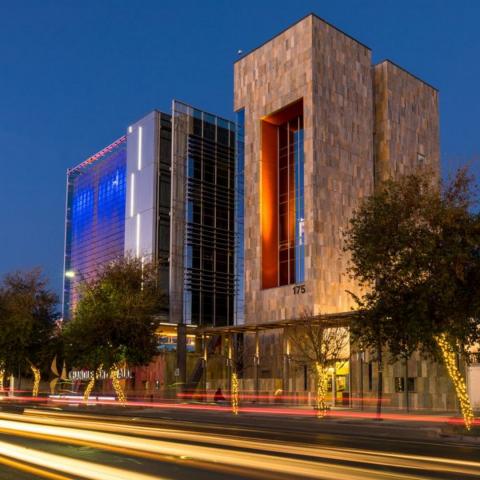 CHANDLER, Ariz. – The Chandler City Council met at 6 p.m. Thursday, April 28, taking action on a total of 32 agenda items. Meeting highlights included:
Adopted a resolution

to accept an Airport Pavement Management System grant from the Arizona Department of Transportation in the amount of $617,580. This state program supplements federal and local funds to ensure airport pavement remains in good condition for aviation activity.

Introduced and tentatively adopted an ordinance to amend sections of Chapters 44 and 50 of the Chandler City Code to change certain water, wastewater, reclaimed water and solid waste fees effective July 1, 2022. (Item 30)

Adopted a resolution to amend the citywide fee schedule relating to the Public Works & Utilities Department, Solid Waste Division, with fee changes effective July 1, 2022. (Item 31)

Awarded a professional services agreement to Wilson Engineers, LLC, for the Reclaimed Water Conveyance Improvements Design Services, in an amount not to exceed $3,644,659. These improvements to the Airport Water Reclamation Facility and Ocotillo Water Reclamation Facility will be completed to fulfill an agreement with Intel for additional reclaimed water supply.

Awarded a construction manager at risk contract to Achen-Gardner Construction, LLC, for the Chandler Heights Road Utility Relocations, in an amount not to exceed $3,396,940.40. This phased utility relocation is a result of the agreement with Salt River Project (SRP) for the undergrounding of a 230-kilovolt transmission system in southwest Chandler to support future power needs in the area. The project includes the wastewater and potable water utility relocations on Lake Drive from Chaparral Way to Alma School Road.

Approved an agreement with Eurofins Environment Testing Southwest, LLC; Legend Technical Services of Arizona, Inc.; and Radiation Safety Engineering, Inc., for laboratory testing services, in a combined amount not to exceed $379,000. The City's Water Quality, Wastewater Quality, Environmental Management, Solid Waste Services, and Ocotillo Brine Reduction Facility divisions use the laboratory testing services to manage drinking water and wastewater test requirements mandated by state and federal agencies.

Approve the sole source purchase of Klampress meter belt press rebuild services at the Pecos Surface Water Treatment Plant, from Alfa Laval, Inc., in an amount not to exceed $450,000.

Adopted a final ordinance to approve the rezoning of Hazelwood by Keystone Homes from Agricultural (AG-1) District to Planned Area Development (PAD). The 22-lot, single-family development will be located at the southeast corner of Chandler Heights Road and 124th Street, approximately one-half mile east of McQueen Road.

Awarded a professional services agreement to Kimley-Horn and Associates, Inc., for design services for the outside plant fiber telecommunications remote buildings, in an amount not to exceed $248,937. The project consists of the design of four telecommunication fiber optic hub switches and connections to the City's existing fiber infrastructure. Chandler's Fiber Master Plan recommended the new hub switches to improve the City's network resiliency and reliability.

Awarded a project agreement to FCI Constructors, Inc., for Phase I Security Fencing Upgrades for Courts, in an amount not to exceed $346,500. This project is for security upgrades to gates for the Municipal Court facility located at 200 E. Chicago St.

Awarded a project agreement to FCI Constructors, Inc., for Phase II Security Fencing Upgrades for Police Facilities, in an amount not to exceed $413,082. This project is for security upgrades to gates and walls for the Police facility located at 250 E. Chicago St.

Adopted a resolution authorizing the submittal of an application for an Indian Gaming Revenue Sharing Grant to the Fort McDowell Yavapai Nation for Chandler Housing and Redevelopment in the amount of $120,891.98. The grant funding will be used to replace three vehicles, including one with an ADA approved lift. The vehicles are currently used by staff for the Youth Housing program and provide transportation between the four family housing sites, the youth center, neighborhood parks and for field trips.

Approved a resolution authorizing an intergovernmental agreement (IGA) with the Phoenix Police Department for the Arizona Internet Crimes Against Children (ICAC) Task Force. This IGA provides an opportunity for the City to collaborate with Phoenix Police and other participating agencies to assist the ICAC Task Force with its efforts. The IGA also provide funding for training and equipment to support and advance task force goals.

Approved the purchase of furniture from Educational Furnishings of Arizona, LLC, in the amount of $71,509.73. The purchase will be for study room enhancements at Chandler Public Library branches; new shelving, storage and computer tables at Hamilton Library; and new seating at Sunset Library.

Approved the purchase of summer campaign services for Chandler Tourism program, from Travelscape, LLC, in the amount not to exceed $50,000. The funding is from Governor Doug Ducey's Visit Arizona Initiative (VAI) Grant Programs. Prior to applying for the grant, staff worked with Chandler hoteliers for their input.

Appointed members to the following boards and commissions: Airport Commission; Board of Adjustment; Citizen's Panel for Review of Police Complaints and Use of Force; Economic Development Advisory Board; Housing and Human Services Commission; Mayor's Committee for People with Disabilities; Chandler Museum Foundation; Parks & Recreation Board; Planning and Zoning Commission; and Transportation Commission.
Prior to voting on Items 30 and 31, the City held a public hearing regarding the proposed changes to certain water, wastewater, reclaimed water and solid waste fees. For additional information on these proposed changes, the public may visit Proposed Utility Rates. To view the public hearing, visit YouTube and forward to the 8:12 mark.
The Regular City Council meeting adjourned at 7:35 p.m.
During a Study Session held on Monday, April 25, the Mayor Harkte proclaimed the following: National Police Week on May 15-21; Peace Officer's Memorial Day on May 15; and Arbor Day on April 29.
In addition, Mayor Hartke and the City Council recognized the Chandler Chamber for its 110th Anniversary and their efforts to promote and support the community and businesses that reside in Chandler.
The Mayor and Council also honored the winners of the 2022 Volunteer Recognition Awards for their dedicated service. The honorees were presented with a certificate and a gift basket by the City's Diversity, Equity & Inclusion Division. A complete list of the winners and their award submissions can be found online at Volunteer 100.
The next meeting of the Chandler City Council will be at 6 p.m. Monday, May 9. Council meetings are aired live, as well as replayed on the Chandler Channel - Cable Channel 11, streamed online at Chandler Video and on YouTube.
- 30 -
 
Note: These are not official meeting minutes of the City Council but rather a brief recap of the Council's actions provided as a courtesy of the Chandler Communications and Public Affairs Department.
The City Clerk's office posts official meeting results the morning following Council meetings. For a complete list of actions taken, visit Chandler Meetings and Agendas. Throughout the agenda, items are posted in red to signify any changes made at the meeting, and who voted no, or abstained.
For past City Council meeting minutes, visit Chandler Meetings and Agendas or contact the City Clerk's Office at 480-782-2180. For any other information, contact the Communications and Public Affairs Department at 480-782-2000.
Media contact:
Stephanie Romero
City of Chandler, Public Information Officer
480-782-2231