April 3, 2019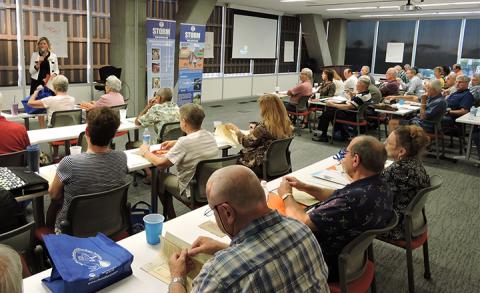 Interested in learning more about getting involved with your community or homeowners association? Don't miss this opportunity to register for Chandler's Spring HOA Academy. The HOA Academy was created to provide residents and board members of homeowner's associations (HOA) with the know-how, tools and resources to effectively lead their neighborhoods.
The free classes kickoff Tuesday, April 16, and run thru Tuesday, April 30. To register for the entire academy or a class of your choice, visit the HOA Academy webpage. All classes will be held at Chandler City Hall, 175 S. Arizona Ave., second floor, Training Room B. Attendees may attend in person or watch online. Once attendees register, they will receive an email with instructions for online participation.
The schedule is as follows:
Class #1: Home-based businesses and short-term rentals in an HOA or condo – friend or foe?
3-5 p.m. Tuesday, April 16
Instructor: Mulcahy Law Firm, P.C.
Residents working from home is becoming a national trend... Under what circumstances can an HOA or condo board prohibit a resident from running a business out of their home? What are the pros/cons of short-term rentals in an association? What rights does an owner have to rent a lot/unit as a short-term rental? Can an association's board prohibit short-term rentals? This class will address all of these questions and more. There also will be a free Q&A by a seasoned community association law attorney at the end of the session.

Class #2: Triple Topic Class – New HOA and condo cases and legislation, Chandler's code enforcement, and how to work effectively with property management companies
3-5 p.m. Thursday, April 18
Instructor: Mulcahy Law Firm, P.C.
Topic 1: The Arizona Court of Appeals and the Arizona Legislature created new case law and legislation pertaining to HOAs/condos. Learn about the new cases and emerging trends in Arizona law.

Topic 2: Learn how Chandler Code Enforcement and HOAs/condos work together.

Topic 3: Lastly, learn how a board can work effectively with its management company, questions to ask, how to use a step-by-step process to determine if a change is needed, the bidding process, and how to determine the best candidate. The class will end with a Q&A session.

Class #3: Strategic planning for HOA and condo boards and how to prevent fraud & embezzlement in associations
3-5 p.m. Tuesday, April 23
Instructor: Mulcahy Law Firm, P.C.
This class will teach you all about strategic planning for your association including reserve studies, amending CCRs, analyzing finances, budget and how to accomplish the board's goals using the Eisenhower Method. This class also will discuss the steps and actions that board members can take to prevent theft and fraud of association funds.

Class #4: The Great Debate - HOA Attorney vs. Homeowner Attorney
3-5 p.m. Thursday, April 25
Instructor: Shaw & Lines, LLC
Back by popular demand, this lively seminar will pit lawyer vs. lawyer to debate and discuss commonly litigated HOA issues.

Class #5: Annual meeting and elections
3-5 p.m. Tuesday, April 30
Instructor: VF Law
There are many issues that an association can encounter while preparing for and holding their annual meeting. Participants will learn how to hold effective annual meetings, along with tips on how to navigate through the election process. Topics include: compliance with governing document requirements pertaining to meetings and the election of directors, awareness of recent changes in the law that may impact the balloting process, and addressing election problems that can arise. The class will end with a Q&A session.
 
For more information on the academy or to register, connect with Neighborhood Resources, or contact Neighborhood Programs staff at 480-782-4348.