July 30, 2020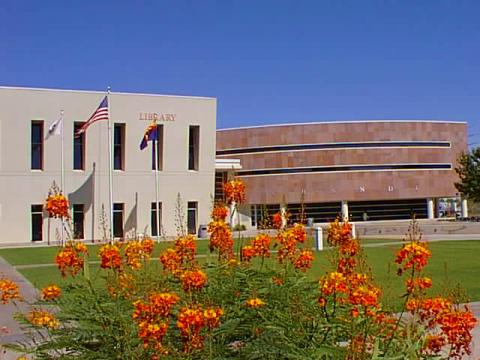 With the resumption of classes at many Chandler schools on Aug. 5, the Chandler Public Library is introducing a reservation system to provide access to select library technical resources to students who may not have access to certain educational necessities in their homes. The new "Book It! Back to School" service offers 45 minute appointments to access free Wi-Fi, desktop computers, quiet study areas, and printing, scanning, faxing and copying tools.
For many young people and adults, the technical services and study resources provided by their local library are crucial to their educational success. Unfortunately, due to the COVID-19 public health crisis, all four Chandler Public Libraries have been closed to the public since July 1, while only offering in-person Hold Pickup Service and material returns in the lobbies.
"We recognize that COVID-19 is having an impact on how some members of our community are able to access resources that they depend on from the Chandler Public Library," said Library Manager Rachelle Kuzyk. "We have heard the concerns of Chandler residents, and we are adapting our service delivery to help meet this need within the community."
"Book It! Back to School" appointments start on the top of the hour during normal hours of operation. Each reservation is for 45 minutes and all patrons must exit the building at the conclusion of their appointment. This schedule enables Library staff to stagger patron arrivals and departures to foster proper social distancing and allows time for frequently touched surfaces to be disinfected between appointments.
The following services are available during an appointment:
Public Desktop Computer

Wi-Fi for Personal Mobile Devices

Self-Service Print/Copy Services

Self-Service Scan/Fax Services
Participants will be expected to abide by the following restrictions and requirements that are being implemented in accordance with current Arizona Department of Health Services guidelines:
Masks must be worn at all times and social distancing practices must be followed
One public desktop computer available per reservation

One reservation per library card each day

Consecutive reservations by members of the same group are not allowed

Each individual will be required to exit the Library at the end of their 45-minute reservation

If you arrive late, you will only be allowed to stay for the remainder of the 45-minute reservation

If you are more than 15 minutes late your reservation will be canceled

Children under the age of 11 must be accompanied by an adult for the duration of the reservation.
"Book It! Back to School" reservations can be made up to 24 hours in advance through the chandlerlibrary.org website. If someone cannot make a reservation online they can call 480-782-2800 and a staff member will assist them.
Reservations are available Monday through Wednesday every hour between 9 a.m. and 7 p.m. Thursday and Friday reservations are available every hour between 9 a.m. and 5 p.m. All four Chandler Public Libraries are currently closed on Saturday and Sunday.