April 6, 2023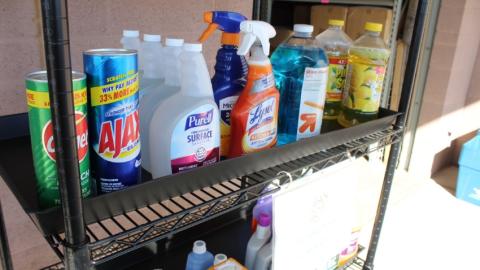 CHANDLER, Ariz. – Chandler residents are able to divert hazardous products from the landfill by dropping them off at the City's Household Hazardous Waste Collection Facility. Many of the items that are dropped off at this facility are new or partially used products.
To promote reuse, the City of Chandler is holding a Household Hazardous Waste Takeaway event at the Recycling-Solid Waste Collection Center, 955 E. Queen Creek Road, on Thursday, April 27 from 8 to 9:30 a.m. 
Items available for free include automotive fluids, pesticides, household cleaners, tiki torch oil, camping propane tanks, spray paint, varnishes and stains. 
The quantity and type of items available vary greatly. All items are first-come, first-serve and cannot be reserved. Customers are limited to ten items and must complete a waiver form each visit before taking the items. 
Items are available for free to Chandler residents that receive solid waste services or live in a Chandler multi-family unit. Residents must bring a photo ID and a copy of a utility bill showing their current Chandler address. 
Household hazardous waste will not be collected at this event. However, residents can call Solid Waste Customer Service at 480-782-3510 to make an appointment to drop off items.
Media Contact:
Toni Smith, Marketing and Communications Manager
480-782-2701