Jan. 2, 2023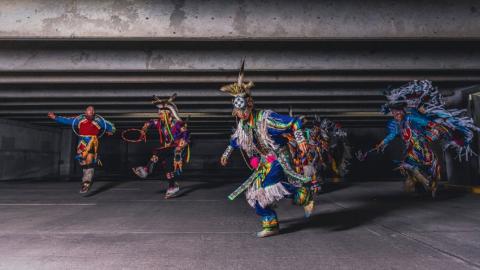 CHANDLER, Ariz. – The City of Chandler's Diversity, Equity & Inclusion Division invites the community to the 28th annual Multicultural Festival on Saturday, Jan. 14, from 11 a.m. to 6 p.m., at Dr. A.J. Chandler Park: Stage Plaza, 178 E. Commonwealth Ave. This free event promotes the cultural diversity within Chandler through music, dance, art, food and more.
Eventgoers can experience live performances from a variety of diverse performers, ethnic foods and kids' activities. Performers include Indigenous Enterprise, Era Kpop Dancers, Ballet Folklorico Quetzalli – AZ, Mariachi Estrella de Cobre, and A3X, among others. Attendees also will be able to purchase items from unique cultural vendors and receive information from a variety of local businesses, nonprofits and community organizations.
A complete entertainment schedule, along with a list of vendors, is available online at Chandler Multicultural Festival.

Also, the winners of the City's annual Creative Expression Competition will be recognized onstage starting at 3:40 p.m. This year's theme was "Connected Through Diversity: Finding commonalities and connections in our diverse community." The winning artwork will be on display during the event (near the stage). The winners also will be featured online post event.
This year's festival is sponsored by Intel. During the event, Intel will announce their second cohort of grant awardees from its Equity in STEAM Initiative in partnership with the YMCA on the Downtown Stage at 12:30 p.m. This initiative was created to advance women and people of color across STEAM (science, technology, engineering, arts, mathematics) careers, to improve representation across the sector and the state of Arizona.
The Multicultural Festival is the signature event of the City's Celebration of Unity, held in honor of the Martin Luther King, Jr. holiday. There are several other free events hosted by the Chandler Public Library as part of the celebration. Mark your calendar for the following:
Teen Civil Rights Button Making Session

 
2:15 – 3 p.m. Wednesday, Jan. 11
Basha Library, 5990 S. Val Vista Drive
Create a button to support the civil rights movement. All supplies provided. Program is drop-in, but limited to 25 participants – first come, first served.

Film Screening: Selma (2014)


2 – 4:15 p.m. Thursday, Jan. 12
Sunset Library, 4930 W. Ray Road
The marches from Selma, Ala., to Montgomery to secure voting rights for Black Americans are depicted in this docudrama set during the U.S. Civil Rights Movement, and focuses on the actions of Martin Luther King Jr.
Rating: PG-13 | Runtime: 128 minutes. Bring your own snacks and drinks to enjoy while watching the movie. Popcorn provided while supplies last.

Celebration of Unity: Multicultural Fashion Show


3:30 – 4:30 p.m. Friday, Jan. 13
Basha Library, 5990 S. Val Vista Drive
Come celebrate style at the Basha Library. The multicultural clubs of Basha High School are excited to share their cultures through the universal language of fashion.

Be The Change – Finding Your Movement featuring Dr. Tamika Sanders


10 –11 a.m. Saturday, Jan. 14 (during the Multicultural Festival)
Downtown Library, 22 S. Delaware St., Copper Room South
When people think of Dr. Martin Luther King Jr., they often forget that he was but one of many leaders during the Civil Rights Movement fighting to create change. Dr. King knew his dream could not be accomplished by his work alone, so he built partnerships and strived to create community wherever he travelled. During this multi-media presentation, Dr. Tamika Sanders, will walk through examples of past and current examples of how people have come together in the face of adversity to create change.

Family Storytime: Multicultural Unity Day


11 – 11:30 a.m. Saturday, Jan. 14 (during the Multicultural Festival)
Downtown Library, 22 S. Delaware St., Copper Room North
Come join us at the Downtown library as we celebrate culture and unity through song, dance, and stories in this all-ages family storytime.

Grab & Go Kits: Around the World Unity Wreath


All day on Friday, Jan. 20
All four branches: Basha, Downtown, Hamilton and Sunset
Celebrate cultural diversity and unity this January with a Grab and Go craft. Make a special unity wreath out of your child's hands!  Supplies will be provided. First come, first served. Especially for ages 3-5, one kit per child.

Family Fun Night: Let's Celebrate Diversity!


5 – 6 p.m. Monday, Jan. 23
Basha Library, 5990 S. Val Vista Drive
Let's celebrate the beauty, fun, and importance of diversity. Join us at Family Fun Night for stories, songs, interactive play and a craft. This is an hour program appropriate for all ages that uses the elements of Sing, Read, Talk, Write, and Play to build literacy skills.

Lunar New Year Celebration


3:30 – 4:30 p.m. Monday, Jan. 23
Downtown Library, 22 S. Delaware St., Copper Room North
Bring the whole family to Downtown Chandler Library to celebrate the Rabbit Lunar New Year through song, dance, stories and crafts.

Lunar New Year Celebration


2 – 4 p.m. Saturday, Jan. 28
Hamilton Library, 3700 S. Arizona Ave.


Celebrate the Chinese Lunar New Year with Hamilton Library. Drop in for a family-friendly event with Lunar New Year crafts, music, books and dancing, while learning more about the culture. Whether you celebrate Lunar New Year or want to learn more about it, join us for this fun event.
For more information on the annual festival or Celebration of Unity events, connect with Adrianna Erickson at 480-782-2224.

Media contact:
Stephanie Romero
City of Chandler, Public Information Officer
480-782-2231