Sept. 1, 2020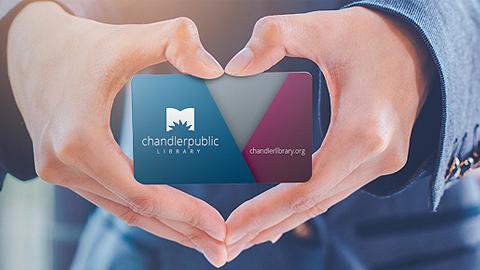 How empowered would you feel to have easy access to technology, information resources and services that can help you pursue your passions and dreams? All of this and more is at your fingertips when you have your own library card, especially one from the Chandler Public Library.
September is Library Card Sign-up Month, and serves as a reminder that libraries provide creative educational and cultural spaces for learners of all ages, from birth to high school and beyond. Started in 1987, the commemoration traditionally marks the beginning of the school year. During the month, the American Library Association and libraries everywhere unite in a national effort to ensure every child signs-up for their own library card. However, during this unprecedented year, library cards have proven to be more important than ever.
The Chandler Public Library, which has been serving the community since 1954, offers much more than books at its four locations and through its website. During the Covid-19 pandemic, Chandler Public Library has continued to provide services while operating just a little differently to help keep everyone – visitors and staff – safe. Chandler Library staff realizes the importance of providing books, information, and resources to the community, especially when people may not be able to connect with each other in person.
"Libraries are an important hub in all communities. They thrive on engagement and human interactions, which is why keeping them closed during a pandemic is so difficult," said Chandler Library Manager Rachelle Kuzyk. "Keeping everyone safe is a priority, so our staff has had to be innovative in many ways to continue to provide our much-needed services to the people who depend on them."
In the past six months, while dealing with a closure and then re-opening with limited hours, the Chandler Public Library has continued to offer its collection of ebooks and audiobooks, streaming movies on Kanopy, emagazines offered by Flipster, downloadable music from Freegal, Lynda.com classes, as well as access to many online research and informational databases. All of these digital resources are accessible at no charge and at all hours simply with a valid library card.
As the public health emergency improved this summer and library facilities reopened and in-person services began to return, Chandler Library staff worked quickly to create additional services to meet customer needs, including the following:
Singalong, craft, and STEAM videos placed on the library's YouTube channel.

Book It! reservations for use of public desktop computers, Wi-Fi, self-service print/copy services, scan/fax self-service, open area study tables.

Bag O'Books, a grab bag of 20 books for young readers, or a bag of 10 books for teens and adults, available for pick up at the Downtown and Sunset libraries.

Research Bundles that are requested online with items collected by staff members, including a list of online resources for students in grades K-4 on a specific topic they are interested in or need to complete a school assignment. This service is currently only offered at the Basha Library.

Programs in a Bag, such as Craft Take It!, Grab & Go STEAM Activity Kits, Sunset Seed Swap, and Wednesday Puzzle Pick-up, which are available at various locations.

Virtual programs such as book discussion groups, English conversation skill building, and "Our Stories" historical presentations that can be enjoyed from the comfort of home.

Online job resources, including Lynda.com (LinkedIn Learning) courses, resume writing tips, access to online job listings on PipelineAZ, and more.
And while the Library was not able to offer the annual Summer Reading Challenge in a traditional sense, this year's program had more than 4,000 participants. Children were able to participate in online virtual programming, read books online or pick them up, and earn prizes, which are now available for pick at the library.
Throughout everything that has happened in 2020, Chandler Public Library has remained connected to patrons and the community through social media, online book discussion groups, CPL Reads programs, and e-newsletters.
You don't have to suffer from FOMO, aka the "fear of missing out." You can have access to these programs, resources and more, simply by having your very own Chandler Public Library card. Don't wait, sign up today.
To get a library card, come in to any of the four Chandler Library locations with your picture ID. Library cards are free for residents of Maricopa County, residents of the Gila River Indian Community who live in Pinal County, or for nonresidents who work or go to school in the City of Chandler (with an additional ID that verifies the workplace or school). For those who only want to access library services online, the Chandler Public Library offers eCards. To apply for an eCard, complete an online registration form at chandlerlibrary.org/ecard.
For more information regarding any of the library services or resources mentioned, please visit chandlerlibrary.org, or call 480-782-2800.