May 6, 2021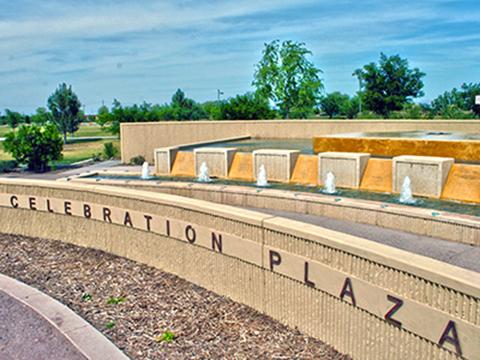 The City of Chandler will be inducting two new members into Celebration Plaza at Tumbleweed Park on Saturday, May 15 at 9 a.m. Members of Chandler City Council will join friends and family of the inductees for a ceremony honoring the impact of Hal "Tex" Earnhardt, Jr. and Glenn McCollum on the community.
Celebration Plaza is a permanent water feature and monument wall near the center of Tumbleweed Park where the Chandler City Council recognizes organizations or individuals for their civic leadership, public outreach and outstanding personal service and commitment to the community. 
From humble beginnings to heading an automobile dealership empire, Hal "Tex" Earnhardt, Jr., left an imprint on Chandler's history. In 1951, at the age of 21, he became the youngest person ever to own a Ford dealership. At first, he sold a single automobile per month. Over time, he grew Earnhardt Auto Centers into 23 dealerships across Arizona and Nevada. Tex was known for his philanthropy and his popular catchphrase: "That ain't no bull!"
Architect Glenn McCollum designed approximately 500 structures over the course of his 37-year career. He opened his firm in 1954 and designed schools, churches, commercial buildings, government buildings (including one of Chandler's City Hall buildings) and residences. Most of his designs are classified as Mid-century modern style.  He served a term on Chandler City Council and spent 27 years on Chandler's Planning and Zoning Commission.
The Cultural Development Department accepts applications for Celebration Plaza inductees year-round. Applications can be submitted online or by mail. 
Eligible Celebration Plaza nominees include community leaders whose outstanding personal service has resulted in significant and enduring contributions to the community, individuals who have made exceptional contributions to the City of Chandler, individuals who have added to the quality of life for Chandler residents through their involvement or financial contribution to short or long-term city projects or activities or City of Chandler employees killed in the line of duty.
For more information, or to submit/download an application, visit chandleraz.gov/CelebrationPlaza. 
Media Contact
Jody Crago
Museum Administrator 
480-782-2873