Aug. 28, 2020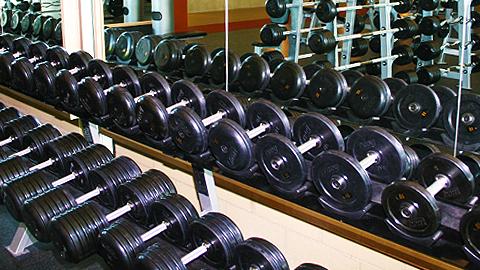 The Tumbleweed Recreation Center, including the fitness floor, will reopen to the public at 5 a.m. Monday, Aug. 31, after the City received approval from the Arizona Department of Health Services to reopen workout areas with COVID-19 precautions in effect.
Reopening requires the TRC to reduce capacity to 25% of normal levels. Capacity will be controlled by requiring all TRC members to make advance reservations for use of the fitness floor and drop-in activities.
Reservations for the week of Aug. 31 are now available through the City's ActiveNet registration system. Registrations are accepted up to seven days in advance and a new slate of reservations will open every Friday at 10 a.m. for the upcoming week. Fitness floor reservations are for 60-minute blocks and drop-in activity reservations are for 90-minute blocks.
Capacity on the fitness floor – including the track – is limited to 32 people, which will help promote physical distancing during workouts. For drop-in activities – including basketball, pickleball, ping pong and racquetball – the maximum number of participants allowed on each side of the gymnasium is 10. Raquetball reservations are limited to four people on each court.
Some TRC amenities remain temporarily unavailable, including the Child Watch Tree House, lounge and group exercise studio.
The health and safety of our team members and guests continues to be our priority. All TRC members and City staff will be required to wear a mask to enter the facility and it must remain on during the duration of the visit. Upon arrival, all guests will be asked to complete a "no contact" self-temperature check.
In accordance with CDC and Arizona Health Department guidelines, individuals who are engaged in high-intensity activities, like running, may not be able to wear a mask if it causes difficulty breathing. If unable to wear a mask, these individuals should not participate in activities conducted at indoor gyms and fitness centers.
Customers who refuse to conduct an infrared temperature check will be asked to answer the Covid-19 Symptom Screening questions. Those who present a fever greater than 100 F (37.8 C), will be asked to sit and re-check their temperature in 3-5 minutes. Those who pass will be free to attend their activity. If not, they will be asked to return symptom free in 72 hours.
In addition to masks and temperature checks, members and staff are required to give each other 6 feet of space at all times. Signage and floor markers are throughout the facility to help facilitate safe physical distancing.
On the fitness floor, there is now an "Every Other Machine" policy. In most areas, every other machine is temporarily unavailable to enable physical distancing. This practice will be monitored and enforced by staff.
Rigorous cleaning schedules to keep surfaces and equipment thoroughly disinfected have been implemented. During times of closure we've implemented deep cleaning and disinfecting, including weekly disinfectant misted throughout the facility. All chemicals used to clean and disinfect are EPA approved and CDC recommended.
For TRC members who are not yet ready to return to the facility, the TRC has added new on-demand group fitness videos and livestreams, and virtual personal training sessions to the TRC website. These online tools help members continue to workout in the manner that they feel most comfortable.
For additional details about the TRC reopening plan, visit chandleraz.gov/trc.