Nov. 20, 2020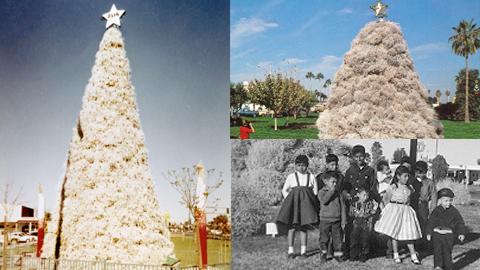 Chandler's most iconic and beloved holiday tradition is featured in "Tumbleweed Tree: A Very Chandler Christmas," a photography exhibition at the Chandler Museum beginning Saturday, Dec. 5, 2020. Admission to the museum is free and this exhibition will be on view through Jan. 10, 2021.
In 1957, Chandler resident Earle Barnum and other residents spearheaded construction of cotton-boll wreaths and a tree made from tumbleweeds to decorate Downtown Chandler during the Christmas season. The Tumbleweed Tree has since become a long-standing holiday tradition attracting international renown and highlighting the community spirit and ingenuity of Chandler residents.
This Chandler Museum exhibition showcases photographs, postcards, and memories from the 60-plus year history of the tree. Guests will see how the construction process for the tree has developed over the years, revel in some of the national attention this tradition has garnered and find out what happened one year when the tree burned down shortly before the lighting ceremony. Visitors also can share their own memories of this festive Chandler tradition.
"Our Tumbleweed Tree is a proud tradition for the entire Chandler and East Valley community to enjoy, and a destination where families make memories each year," says Hermelinda Llamas, special events coordinator for the City. "This holiday season will be very exciting thanks to the Chandler Museum hosting this exhibit. Folks can discover how the Tumbleweed Tree tradition began and came to be what it is today. It's a must see attraction," Llamas added.
Museum Exhibits Curator Jillian Nakornthap has only lived in Chandler a short time and has been fascinated by her research for this exhibition. "Since coming to Chandler in January, I've discovered many interesting tidbits about this community, but the ones I find most endearing are the traditions that bring this community together," Nakornthap said. She continued, "I believe the Chandler Tumbleweed Tree is an annual tradition that has cemented this community as a family focused, quirky and loveable town."
To complement the exhibition, the new Museum Store will feature Tumbleweed Tree themed merchandise, such as ceramic ornaments, postcard sets with historic images of the tree and jewelry made from tumbleweeds by Arizona artisans.
The Museum Store is located in the lobby of the Chandler Museum at 300 S. Chandler Village Drive. The store is open during Museum hours, Tuesday through Saturday from 10 a.m. to 5 p.m., and Sunday from 1-5 p.m. The facility is closed on Mondays.
Find more information online at chandleraz.gov/museum, or by calling 480-782-2717.
In the photo, the 1987 Tumbleweed Tree was topped with a star that noted the 75th anniversary of the founding of the town. Credit: Photo courtesy of the Chandler Museum Collection (catalogue No. 1999.18.3.1)
    

Chandler Museum

is an innovative learning environment where the community comes together to share our stories, store our cultural heritage and experience Chandler as a people and place. The vision of the Museum is to be the community's principal resource to explore its people's history, culture, and place in a rapidly changing world of today – within and without the walls of a building. More information is online at chandleraz.gov/museum.