Jan. 12, 2021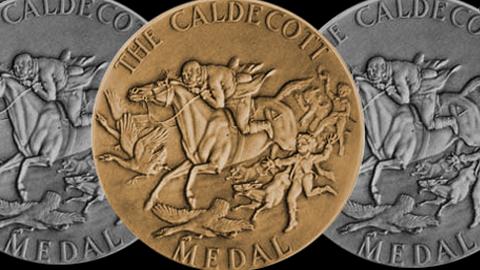 The Chandler Museum continues to welcome visitors who want to explore the culture, history and art of Chandler, the East Valley and beyond. In February, two new exhibits will open alongside existing exhibits presented in a comfortable environment that promotes physical distancing, mask wearing and limited occupancy to protect guests and staff from COVID-19. The two new exhibits – opening Feb. 3 and continuing for five weeks through March 10 – are:
"Young at Art: A Selection of Caldecott Book Illustrations"
This exhibit celebrates artistic classics in children's literature that received the Caldecott Medal, awarded annually for excellence in illustration in an American picture book for children. Through picture books, readers embark on visual journeys that encourage curious, imaginative, and thoughtful interactions with the world around them. Featuring original illustrations from twenty-eight award-winning artists, this exhibition celebrates artistic classics in children's literature including works from Maurice Sendak, Barbara Cooney, and Chris Van Allsburg. The Caldecott Medal has been presented by the Association for Library Service to Children since 1938. This program is from ExhibitsUSA, a national division of Mid-America Arts Alliance and The National Endowment for the Arts.
"Death and Diamonds: A Holocaust Survivor's Journey from Kraków to Chandler"
This exhibit presents the story of a World War II Holocaust survivor who came to Chandler in 1962 to work in a local diamond manufacturing facility. Born into a Jewish family in Poland in 1924, Samuel Soldinger found himself and his family confined to the Kraków Ghetto after the Germans invaded. While everyone around him died, Soldinger survived the Holocaust working in Oskar Schindler's factory. After the war he learned to cut diamonds and moved to New York City. In 1962, Soldinger arrived in Chandler to manage the new Harry Winston diamond processing plant on Pecos Road. This exhibit traces the historic journey of this Chandler man.
The featured exhibit at the Museum through Aug. 29, 2021, is "Bigger than Boxing: Zora Folley and the 1967 Heavyweight Title." This exhibit features the stories of two boxers – Muhammad Ali and Chandler resident Zora Folley – who battled in the ring for the World Heavyweight Championship on March 22, 1967, in Madison Square Garden, New York City. It delves into the subjects of race, religion, sport, and the politics of the 1960s.
In a special event for the public from 1-5 p.m. on Sunday, Jan. 17, the Chandler Museum will celebrate Muhammad Ali's birthday with free boxing themed activity kits available for pick-up. After viewing the "Bigger Thank Boxing" exhibit, pick up your kit, take it home to decorate your own championship belt and enjoy a packaged treat.
In addition to these exhibits and programs, the Chandler Museum offers at-home activities for purchase through the Chandler Museum Store. The themed Museum in a Box kits are created for various age groups and include instructions and supplies for three to five activities. Current editions include:
Date Night Edition

: Sweat and Spar: Boxing Fun for Two
Ready for a date night that packs a punch? Don't worry about your fitness level, grab your partner and step in the ring. Round 1: Duke it out with your partner in a series of jump rope challenges. Round 2: Find out who can talk the talk. Round 3: Weigh in on issues that matter with conversation cards centered on the exhibition "Bigger than Boxing: Zora Folley and the 1967 Heavyweight Title." Round 4: Take a breather by expressing your artistic side, boxing style. This box also includes movie suggestions, drink recipes, and a sweet treat. The cost is $24.

Family Edition

: Build It! Frank Lloyd Wright in Chandler
Explore architecture with a Frank Lloyd Wright themed activity box. Design a city, test your building skills with edible construction supplies, and review shapes hidden within authentic Wright drawings. This Chandler Museum in a Box contains all needed supplies for three activities, stories about Wright's time in Chandler, and the book Who Was Frank Lloyd Wright from the popular "Who Was?" series. This family edition is great for ages 7-10 and includes enough supplies for two users. The cost is $18.
The Museum Store is located in the lobby of the Chandler Museum at 300 S. Chandler Village Drive. The store is open during Museum hours, Tuesday through Saturday from 10 a.m. to 5 p.m., and Sunday from 1-5 p.m. The facility is closed on Mondays.
Find more information online at chandleraz.gov/museum, or by calling 480-782-2717.