Jan. 26, 2023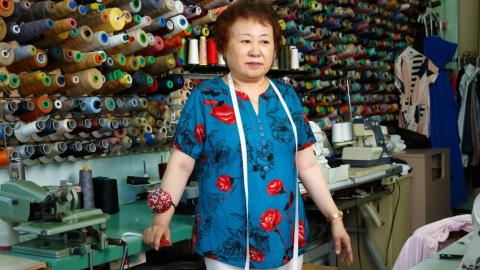 CHANDLER, Ariz. – In the photography exhibition Working America, artist Sam Comen presents American immigrants and first-generation Americans at work in the small, skilled trades as icons of the American experience. The subjects share stories of economic independence and struggle, belonging and exclusion, faith and fear, and service to both community and family. Working America is a meditation on American belonging and American becoming. It poetically acknowledges the lives of and contributions that working men and women make as a part of our country and our collective experience. Working America will be on view Jan. 31 - May 21 at Chandler Museum.
A variety of themes are explored in the portraits and accompanying interviews. Some touch on the dignity of work, inequity among immigrant nationalities, or the political relevance of labor migrants. Others examine intergenerational legacies of inherited skills, the learning of new skills to adapt to the new land of opportunity, or the relationship between a nation's identity and the identities of the individuals who comprise that nation.
Chandler Museum will host a family program to engage visitors of all ages. Drop in Saturday, April 29 between 11 a.m. and 2 p.m. for the "In the Exhibits" program. The program will immerse families in interactive activities throughout the exhibit as they gain deeper insights into the topics on display.
Working America will be on view at the Chandler Museum Jan. 31-May 21, 2023. The Chandler Museum is located 300 S. Chandler Village Drive. It is open Tuesday-Saturday 10 a.m. to 5 p.m.; Sunday 1-5 p.m. and closed on Mondays. Admission is free.  
Find more information on the exhibitions and programming visit Chandler Museum or call 480-782-2717.
Media contact:          
Jillian Nakornthap, Exhibits Program Coordinator
Chandler Museum
480-782-2882
Photo credit: Sam Comen, Young Ae Jung, Tailor from the series Working America, 2018; Digital photograph, 36 x 24 inches; Courtesy of the artist.
Chandler Museum is an innovative learning environment where the community comes together to share our stories, store our cultural heritage, and experience Chandler as a people and place. The vision of the Museum is to be the community's principal resource to explore its people's history, culture, and place in a rapidly changing world of today – within and without the walls of a building. For more information visit Chandler Museum.
About ExhibitsUSA
This exhibition is toured by ExhibitsUSA, a national program of Mid-America Arts Alliance. ExhibitsUSA sends more than 25 exhibitions on tour to over 100 small- and mid-sized communities every year. These exhibitions create access to an array of arts and humanities experiences, nurture the understanding of diverse cultures and art forms, and encourage the expanding depth and breadth of cultural life in local communities. For more about ExhibitsUSA, email MoreArt  or visit ExhibitsUSA. 
About Mid-America Arts Alliance
Mid-America Arts Alliance (M-AAA) strengthens and supports artists, cultural organizations, and communities throughout our region and beyond. Additional information is available at M-AAA.    
About the Artist
As a native Californian, Sam Comen has used his home state as a muse throughout his career and often looks to the places that define us for inspiration. He has long focused on themes of American identity, community-building, immigration, democracy, and social justice in his photographic work.
His portrait Jesus Sera, Dishwasher (2019) from the Working America series was awarded Second Prize in the prestigious triennial The Outwin: American Portraiture Today at the National Portrait Gallery in 2019, and his work was on view there in the 2017–18 exhibition The Sweat of Their Face: Portraying American Workers.
His photographs are collected by the Library of Congress, Los Angeles County Museum of Art, and private collectors, and he is regularly commissioned by brands and publications internationally.