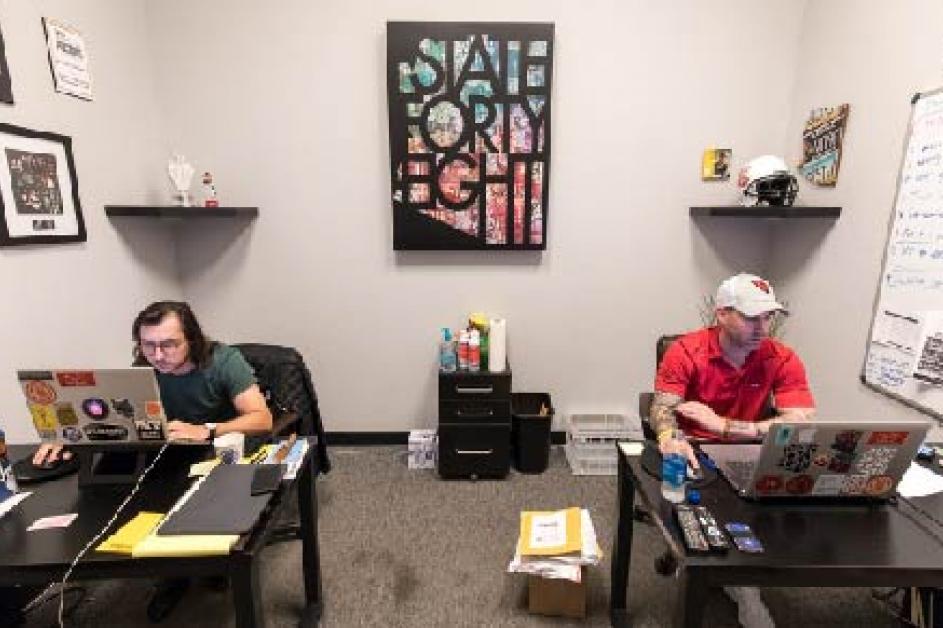 Clothing for all, inspired by Arizona. If you recognize this tagline, you're probably a fan of State Forty Eight, one of the state's most-loved logo brands. 
Shirts, hats and accessories donning the iconic AZ logo can be found across the state — often in collaboration pieces with other Arizona organizations and nonprofits. However, if you ask State Forty Eight's founders about their roots, they will be the first to tell you their hearts live in Chandler. 
The three co-founders — Michael Spangenberg, Nicholas Polando and Stephen Polando — are Chandler natives. They played on the same tee-ball team as kids and graduated from Chandler High School. When their budding clothing company began to take off, they knew they wanted to stay close to home. 
"Staying in Chandler has always been important to us because this is where we're from." Spangenberg said. "As much as we all love Arizona, we love the City that we live and grew up in."  
State Forty Eight is one of the many companies helping Chandler build its name as a "Community of Innovation." The company started in 2013 and has since achieved widespread brand recognition as well as successful partnerships with major organizations across Arizona. 
The company owes much of its success to its community-based marketing strategy. Before State Forty Eight, Arizona's clothing scene lacked a major brand encouraging home state pride. 
"There was nothing out here besides the 3-for-$10 Walgreens shirts that were representing our State," Spangenberg said. 
The founders saw an opportunity to fill the gap and create a brand to showcase all the great things about Arizona. State Forty Eight's graphic appeal and messaging laid the foundation to help the company take off, with the help of a few key collaborations. 
The company's big break came in 2017 when it was approached to do a collaboration with former Arizona Cardinals Head Coach Bruce Arians. State Forty Eight created a shirt with a custom logo, and $5 from each sale were donated to the Arians Family Foundation to help disadvantaged youth. 
"Next thing you know, the Cardinals went 13-3 and we couldn't keep the shirts in stock," Spangenberg said. 
This partnership laid the foundation for how State Forty Eight wanted to work with community partners and build their company long-term. 
"That's when we realized this is more than pushing products in people's faces," Spangenberg said. "We really are creating awareness, and we're collaborating with great organizations." 
The current headquarters is the second location the company has called home, both of which have been in Chandler. From the beginning, the founders worked with the City's Economic Development Department to find the right physical space to meet their expanding needs. 
"When we were first looking for a space, we had no idea where to get started," Spangenberg said. "The City suggested the plaza, and it was perfect for us."
The company is now in its second Uptown Chandler space, located around the corner of its first workshop location in the Pollack Business Park North. The current shop has a retail storefront with a workspace in the back for products and distribution. 
"When you grow, you want to grow smart," Spangenberg said. "This space has helped us do that." 
As for future endeavors, the State Forty Eight team has plenty of plans in the works. In the coming months, look out for new collaborations and expansions beyond clothing, including a co-branded credit card. 
Stay Connected With State Forty Eight
Keep in touch with the latest news and releases from State Forty Eight by following them on social media at @StateFortyEight on Facebook, Instagram and Twitter. You can also stop by their retail space at 3245 N. Arizona Ave. from 10 a.m. to 5 p.m. Monday through Friday.