Recent News Announcements 
Monthly Newsletter
Stay informed about Chandler economic development news with our monthly e-newsletter. Sign up now to get monthly updates delivered straight to your inbox. See below for past issues.
PHX East Valley Innovates' Kick-off Reception
Feb. 10, 2020 | 5 - 7 p.m. 
Civic Market/Quarthaus
201 S. Washington St., Chandler
Building Intentional Culture: Connecting Culture to Financial Results Workshop  
Feb. 11, 2020 | 8:30 a.m. to 12 p.m. 
ASU Chandler Innovation Center
249 E. Chicago St., Chandler
Angel Investing Series
An accelerated program designed to equip individuals interested in angel investing with the knowledge and tools to invest in PHX East Valley tech companies.
Learn More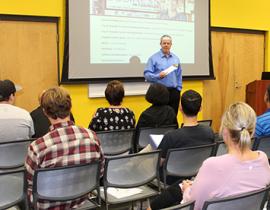 Business Workshops
The City hosts business development workshops to help entrepreneurs start or grow their business. Stay tuned for the next series occurring in Spring 2020.
For additional resources, download Chandler's Small Business Guide in English or Spanish.
Learn More
Science Spectacular
Showcases the businesses, artists, students and innovators in the community as Chandler participates in the statewide Arizona SciTech Festival.
Learn More
Small Business Saturday
Celebrated the Saturday after Thanksgiving, Small Business Saturday encourages holiday shoppers to support local merchants and #SHOPSMALL.
Learn More
Previously Sent Newsletters
2016-2020