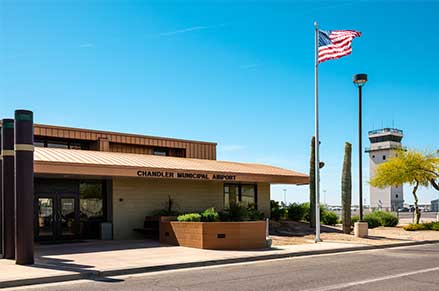 Chandler Municipal Airport (CHD) is owned and operated by the City of Chandler and has been in operation since 1948. Because it is a City-run airport, Chandler Municipal is open for public use 24 hours a day, seven days a week.
As of 2019, there are no scheduled airline services operated at Chandler Municipal Airport with no plans to introduce such in the near future. Rather, the City operates CHD as a general aviation airport, which means it is primarily used for corporate and self-piloted business flights, sport/hobby aviation, flight training, public safety and medical service flights. 
In 2018, CHD experienced 222,899 takeoffs and landings, making it the 16th busiest general aviation airport in the U.S. in 2018 and the 48th busiest U.S. airport overall. By 2025, the City projects an annual total of more than 400,000 take-offs and landings. 
CHD is located in the heart of the Chandler Airpark, a nine-square-mile employment center surrounding the airport expected to house more than 25,000 total jobs by 2025. This activity has allowed the Chandler Municipal Airport to generate almost $110 million in total economic activity, equaling almost $300,000 each day. 
Airport Commission
To learn more or get involved with public discussion about the airport, residents are welcome to attend any or all Airport Commission meetings. The Commission is made up of a group of aviation community members who serve as an advisory group to Mayor and Council. Meetings are generally held on the second Wednesday of the month and are open to the public.
Newsletter
To stay informed about upcoming projects and events, closures, and other timely and relevant news alerts at Chandler Municipal Airport, subscribe to our monthly newsletter.